Product
Top 5+1 ShapeScale Questions Revealed
That's right, ShapeScale has finally launched and we're so happy to see how excited you are about it. We've been receiving a huge number of questions about the launch, the device and a lot more. So let's take a look at the ones you're the most curious about. Get the answers to the most frequently asked 5+1 ShapeScale questions now!

#1 When Will I Receive My ShapeScale?
At the moment, we don't have specific shipping dates.
As much as we'd like to give you specific dates, we need you to understand that ShapeScale is a complicated product. While our team has completed development on the hardware of ShapeScale, we still need to work with an overseas manufacturer to industrialize the design so that we can mass-produce ShapeScale.
This is a process that involves tooling, supplier negotiations, package design, assembly line setup, rigorous testing, certification, logistics and much more. It's a process that unfortunately takes several months.
For Shape, it is paramount to determine demand and negotiate the best supplier and manufacturing deals. Without early-bird customers, none of this would be possible. This is exactly why we offer a steep discount to everyone that pre-orders a ShapeScale.

#2 What's Your Return Policy?
We have a no-questions-asked money back guarantee up until 45 days after delivery. Although we really hope this will not happen, if you change your mind about the purchase, we guarantee a full refund.
So even after your ShapeScale arrives, you'll have a 45-day "trial period". During this, you can see whether ShapeScale fits your expectations or not.
*Shipping costs of return may apply.

#3 What Happens to My 3D Scans?
After you get scanned by ShapeScale all data is uploaded to our secure cloud servers. It's being stored on Shape servers for our algorithms to do the post-scan processing. This processing involves the realignment of posture and filling holes in the scan based on previous scans and body models from our database. The ShapeScan data in aggregate will allow the algorithms to improve over time. Furthermore, it opens up possible later features, such as Shape forecasting and more.
There is absolutely no reason to worry about privacy issues. Shape servers protect all users' sensitive data at rest. They're using 256-bit AES keys and encrypt all data in motion with 128-bit AES SSL/TLS encryption or better.
Your data is broken up and tied to anonymous IDs. This makes it extremely hard for humans and extruders to connect your scanning data back to you. In addition, we take commercially reasonable steps to protect your data against unauthorized access.
Shape Team Members will never review or have access to individual scans. It's only you who can decide to share your scan with us or opt-in for a study or beta program.
#4 Show Me a 3D Scan! Can I Export My 3D Data?
Once you get scanned with ShapeScale, you'll get a completely photorealistic 3D scan of yourself. You can zoom-in and out, and spin it all around. It gives you the chance to finally see yourself like others do, and also to see your body from every possible angle. It's like having your own, personalized sim character.
There are also other conventional 3D scanners out on the market, but there is a huge difference between them and ShapeScale. They don't have something that makes the ShapeScale scans unique: photorealism. While your ShapeScans™ clearly reflect you, other 3D scanners only provide you a gray bulb. This gray bulb is everything, but not personalized. But let me show you exactly what I mean.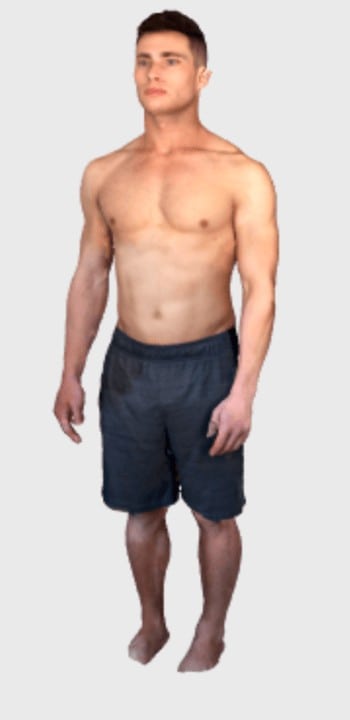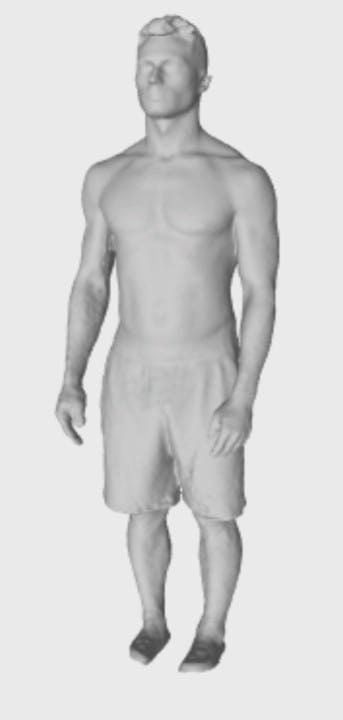 The left one is ShapeScale's photorealistic 3D scan. The right one is something similar to what other 3D scanners give you. Which one would you prefer to see on your smartphone?
On the other note, to ensure your own security and Shape's intellectual property we do not allow exporting of these ShapeScans. However, we're planning to work with qualified and trustworthy partners.
Our aim is to eventually offer value-added services, such as 3D printing, tailor-made clothes, 3D fitting rooms, and more. Who's excited to 3D print themselves?😜

#5 Can You Explain Your Pricing?
Absolutely. So first and foremost, our current prices are part of our early-bird offer. This means that the prices that you see on the site now and that you can purchase your ShapeScale with, are discounted prices. Later on, ShapeScale's price will increase.
We are operating with a subscription pricing model. You have to pay for the ShapeScale device and in addition, sign up for one of our subscription plans.
The price of the ShapeScale device is $299. As mentioned earlier, this is a discounted price and will be raised to $499 in the future. The cost of the device is charged upfront when you place your order.
Regarding the subscriptions, we have 3 options available at the moment. Whichever you choose, you'll be able to enjoy all the fantastic ShapeScale features, fast cloud processing, and cloud storage.
The 3 subscription plans are the following:
Monthly for $12.99/month, billed monthly. (Yearly commitment)
Annually for $9.99/month, billed annually. (Yearly commitment)
Lifetime for $299, billed at the time of shipping
Subscription fees are only charged at the time of the delivery. As a matter of fact, you'll need to activate your own ShapeScale, before paying for your subscription.
While the first year of subscription is mandatory, after that you will have the chance to downgrade to a free plan. This will allow for continuously using and storing a single scan. You'll be able to view your current measures and use your ShapeScan for non-health apps. For instance, virtual fitting rooms, tailor-made clothing, 3D printing, VR and more.
I hope it's all clear now. If you still have some further questions, please don't hesitate to drop me an email!
#6 How Many People Can Use My ShapeScale?
With the basic subscription plans, you'll be able to support 2 users. The reason behind this is that all ShapeScale data is processed and stored in the cloud. And this cloud processing raises additional costs for us after each user. Therefore, we simply cannot allow for more than 2 users in the basic plans for now.
You can add as many extra users as you'd like to for $2.99/month.
Additionally, the number of 3D scans that you take is not limited to two. So if you just simply want to do a non-fitness scan of your friends without their body measurement, you can still do so. There is no need for them to be included in your plan.
So get ready for those 3D avatars!😉

I hope you got the answers to all your big questions, but if you didn't, just drop me an email! And if you have some cool feature ideas in mind, please let us know.😊 Lastly, for partnership/distributor/influencer queries, also reach out directly!