Product
Thank You For Your Amazing Support!
As you probably all know, the ShapeScale online store has opened its doors for everyone last week. We've finally launched ShapeScale for the general public. But it couldn't have happened without our precious supporters, without You!
Your Contribution
First of all, Team Shape would like to thank everyone who has signed up for our waitlist. And of course, special thanks to those of you who participated in our pre-launch contest! You guys really worked hard, we still cannot believe how many shares/likes/comments had come together during the contest. You brought a lot of attention to ShapeScale, which is exactly what a new startup is craving for.
Media Tour
Just before the launch, we took ShapeScale on a PR tour to New York. For 3 days, we had interviews after interviews, which was of course tiring, but also another push that suggested 'ShapeScale is ready and You're ready for ShapeScale'. We got some amazing feedback from the journalists we met. It was incredible to watch people's reaction when they saw ShapeScale in action for the first time.
And here are the fruits of our hard work. This is what the press have been saying about ShapeScale since.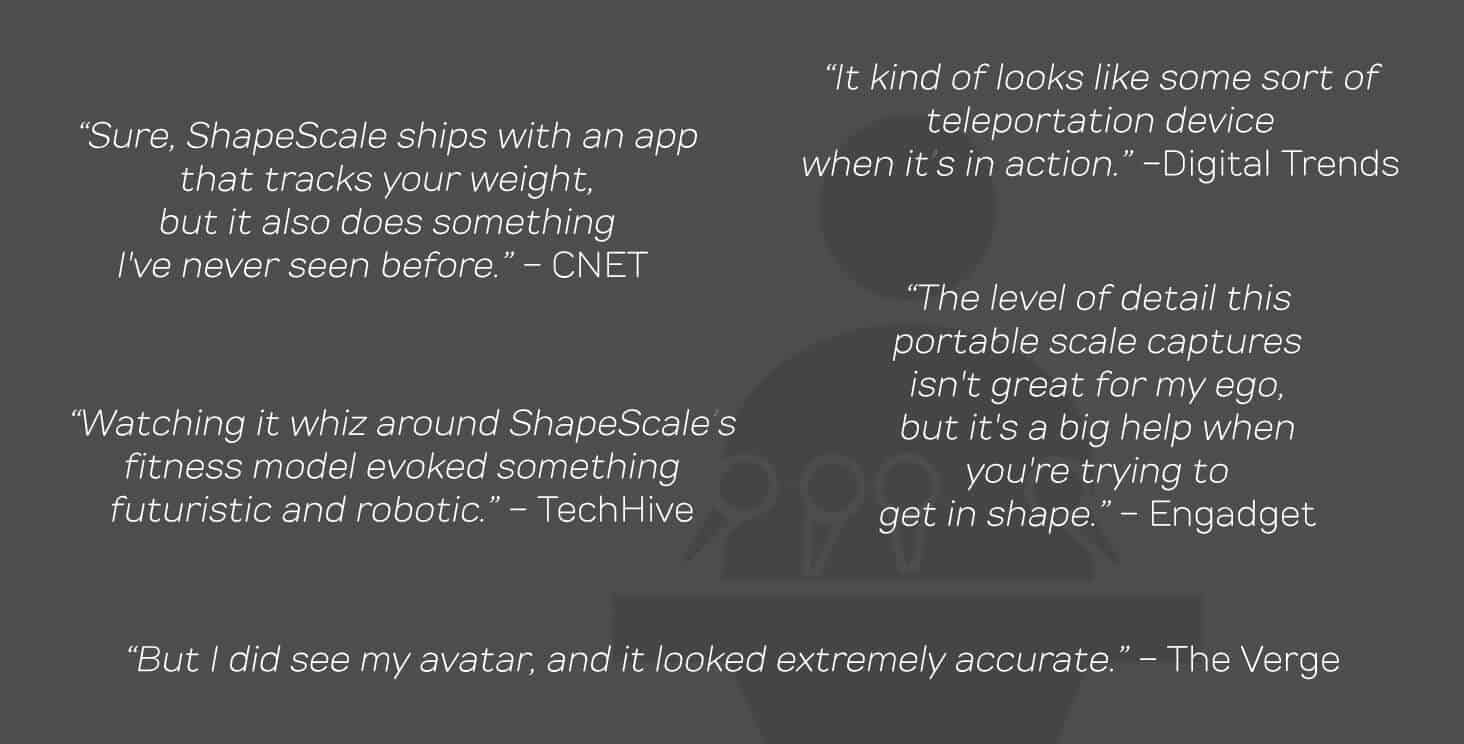 Read the full articles here
Product Hunt
As you might know, on the morning of the big ShapeScale launch we also got listed on Product Hunt. Thanks to all our supporters, we got nearly 1000 upvotes and finished as a runner-up for that day's 'Popular Tech Product'. I feel like, I'm repeating myself a bit here, but again it was such an amazing feeling. So thanks everyone for giving ShapeScale an upvote! It really helped in getting the word out.
The Launch
And finally empowered by ShapeScale's potential, your and the press's support, we launched ShapeScale for the general public on May 10th, 2017. This was so far the biggest day in ShapeScale's history, but we know there is a lot more to come!
We've also created a sharing page for ShapeScale to make sharing as easy as possible. So if you like what we're doing and think that ShapeScale is a great product with high potentials, please help us to spread the word! Click on the link to share ShapeScale with your friends and help them move towards a better fitness tracking!👉 Share ShapeScale

If you have any feedback for us, please don't hesitate to drop us an email! We're always here to listen and take every valuable advice.