Product
Top 10 ShapeScale Questions Answered Today
Everything you want to know about ShapeScale and its upcoming launch and more.
ShapeScale launch
ShapeScale price
ShapeScale features
ShapeScale shipping
ShapeScale's data accuracy
Why is ShapeScale better than a conventional scale?
Good news everyone, ShapeScale is launching very soon and you're more excited than ever, but there are probably still tons of questions circulating in your head about this magical 3D scanning body scale. So we've gathered the 10 most frequently asked questions about ShapeScale to help you resolve the mystery.

As you probably know, you can already pre-order ShapeScale from our online store.👉 www.shapescale.com. But let's take a look back to the past a bit and see how it all happened!
EXCLUSIVE PRIVATE LAUNCH FOR OUR WAITLIST
At first, ShapeScale was ready for pre-order from a private page on shapescale.com. We had made the first batch of 1,000 ShapeScale units first available exclusively to our VIPs; followed then by the remainder of over 70,000 of you on our waiting list.
We sent out invitations based on the number of points you've secured during our contests. So if you were among the top contestants, you were also among the first ones getting access to our private launch ShapeScale website.
PUBLIC LAUNCH IN MAY 2017
After our private launch, another batch of ShapeScales was made available for pre-order to the general public in May, 2017.
In terms of pricing, our biggest fans on the waiting list enjoyed some pretty awesome deals. Their pre-order price was $499 minus any discounts secured – which could range between $175 and $50 OFF the pre-order price. Sounds good, huh?

THE FIRST 3D SCANNING SCALE
ShapeScale is a weight scale that digitizes your body in three dimensions, so you can see exactly how your body shape is changing over time. You step on the scale, and its robotic sensor rotates around your body. ShapeScale makes use of cutting edge 3D depth-sensor technology (similar but more advanced than that of the Microsoft Kinect) and captures your body from close-up at an extremely high resolution.
PHOTOREALISTIC AND ACCURATE 3D BODY MODELS
It uses infrared light to measure the distance between you and our sensor. The full body scan takes less than a minute and creates a point cloud of over two million points of your body shape. Using our RGB data we then map your skin and clothing on top of your body model.
The result is a highly accurate and photorealistic 3D scan of yourself, the "Shape Scan". Our scans are supplemented with additional sensors for additional data on your body composition. All in all ShapeScale will be able to measure its user's individual body girth measurements, weight, volume, lean mass and body fat percentage.
YOUR BODY MEASURES, BODY FAT, LEAN MASS, WEIGHT AND VOLUME ALL ON ONE APP
Once a Shape Scan is complete, the scale will send the information through WiFi to our server for post processing. The processed image is then sent right to your phone and can be accessed through our app. From there you'll be able to browse your current fitness data, compare body models and set/review your "Shape Goals".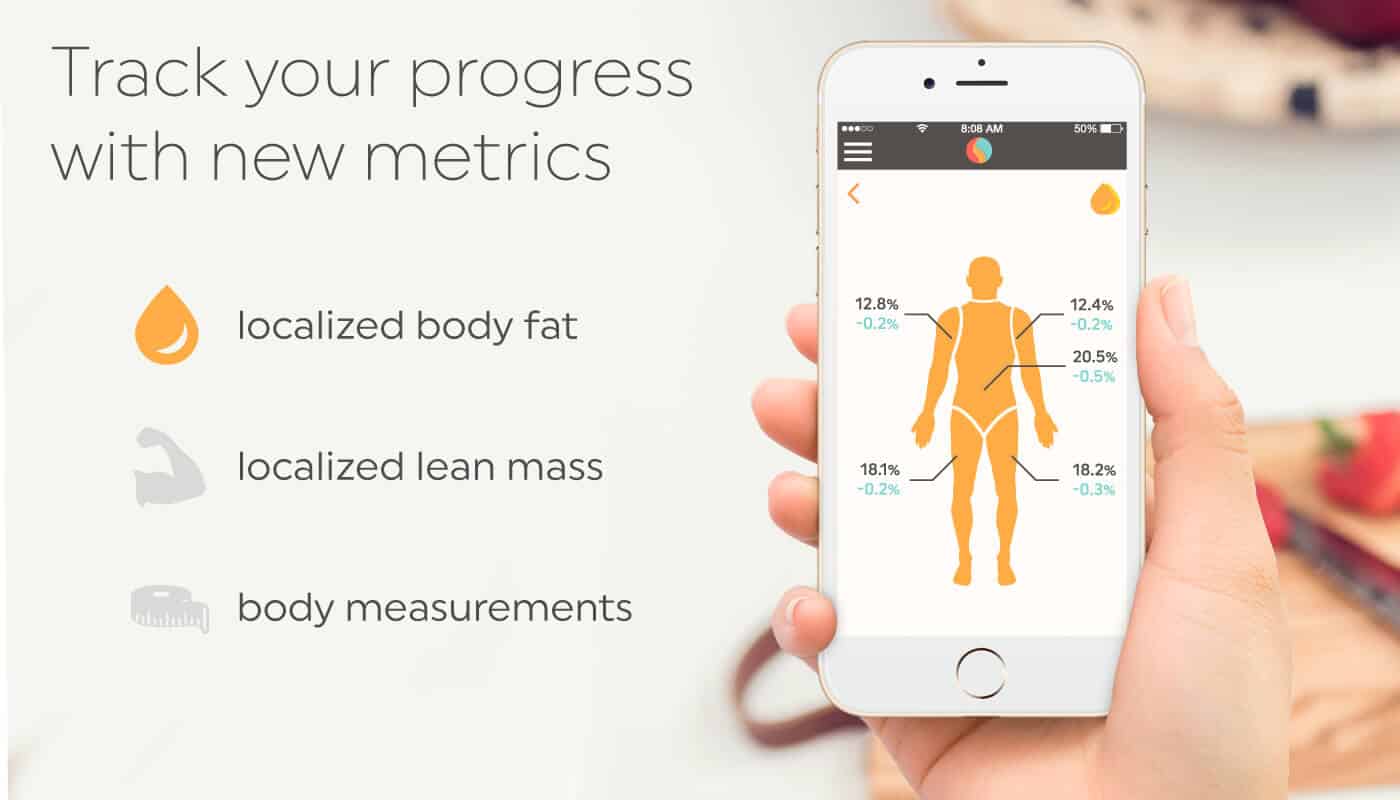 DATA THAT HELPS YOU ACHIEVE YOUR GOALS
The app will show you where you've been and where you're at and you'll see exactly where you have been gaining muscle or losing fat. And what's even better than simply seeing your accurate measurements, the app will also allow you to pursue and track individual shape goals. So for example, if you would like to have a slimmer waistline to fit into that summer dress, ShapeScale will help you achieve it by giving continuous feedback based on your goal.

BODY WEIGHT
Obviously, as every scale, ShapeScale also measures your body weight, but the main aim here is to go beyond numbers, so trust me this is the least it will give you.
BODY GIRTH MEASUREMENTS
We all know how tedious and boring it can be to manually measure your body with tape, plus who does even have time for it? Well, ShapeScale does. It provides you with body girth measurements in less than a minute and what's more it'll also get rid of the human error factor so you can track every 1/8 of an inch accurately. It measures your arms, neck, chest, waist, hip, tights and calves.
LOCALIZED BODY FAT
ShapeScale tracks your fat content and how it changes in each part of your body over time. This data is much more precise, due to the algorithms we use, which are similar to hydrostatic weighing that make use of body volume and density to determine the user's body fat mass. ShapeScale's sensor is accurate to less than a sixteenth of an inch.
LOCALIZED BODY LEAN MASS
Now the other side of the story, ShapeScale also keeps track of your muscles, provides you with localized measurements and shows how they change over time. This will help to make sense of those meaningless numbers of your body weight.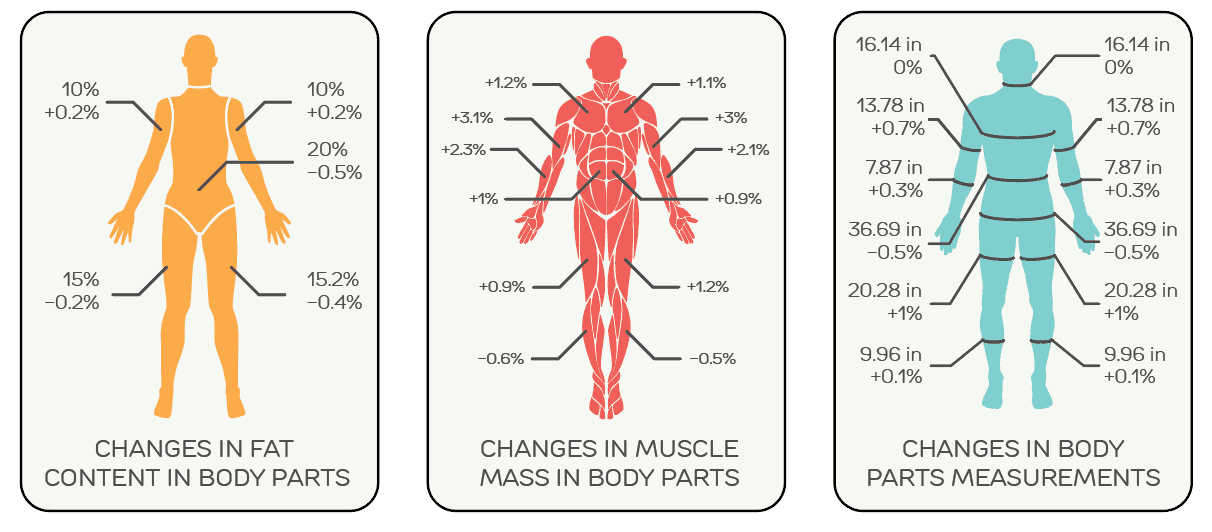 BODY VOLUME AND SHAPE INDEX
ShapeScale identifies your Shape Index, which has proven to be a much better and more reliable predictor than BMI by a study published in the Journal of Translational Medicine. Unlike BMI, Shape Index takes into consideration where the weight is concentrated. It combines BMI with waist circumference which determines the amount of belly fat a person has. Therefore, with ShapeScale you'll be able to understand exactly how your body fat is distributed and prevent potential health issues.

Okay, so you might think now that 'it's amazing to have all these data, but will I need to make use of all this on my own or will ShapeScale help me?' Hell yes, it will. Let's take a look at the 'wow' features now and see how.
PHOTOREALISTIC 3D SCANNING
First of all, ShapeScale will provide you with a photorealistic 3D scan of your body, which visualizes all the above-mentioned data and will enable you to track how your body is changing over time. With the photorealism, every little detail, like muscle definition and even wrinkles will be easily visible. Plus as the 3D scan is 360, you'll be able to see yourself as never before.


Get ready for the real you, the one that others see and not your biased mirror image!
INSTANT FEEDBACK METER
After your first scanning experience, you will get an Instant Feedback that gives an idea about which category your body belongs to. This is based on all the data ShapeScale measures and will provide a good starting point to set your fitness goals.
GOAL SETTING AND DIFFERENCE VIEW
Ok maybe setting your goals is a basic feature, but visualizing it is definitely something extraordinary. Besides forecasting how the changes will look like, ShapeScale will also estimate a realistic target date that will prevent you from unnecessary hustles.
These features are not among ShapeScale's launch features, but hey for the best things, we all need to wait sometimes.
PROGRESS HEAT MAP
One of the major ShapeScale 'wows' is the heat map that utilizes the body fat and lean mass measurements to visualize where you've been gaining fat, building muscles or shrinking. This will definitely help in reaching your goals and adjusting the steps towards them.

TIMELAPSE
Here comes the biggest 'wow' feature. The photorealistic 3D scan allows us to create a time-lapse video of how your body has been changing, which quite frankly can be extremely rewarding to watch.
On the other hand, if you need some tough motivation to kickstart your fitness activities, you can forecast how you might look like in the future, if you don't lift up your butt from the couch, stop eating junk food and start exercising. Trust me, you'll be shocked enough to get a gym membership.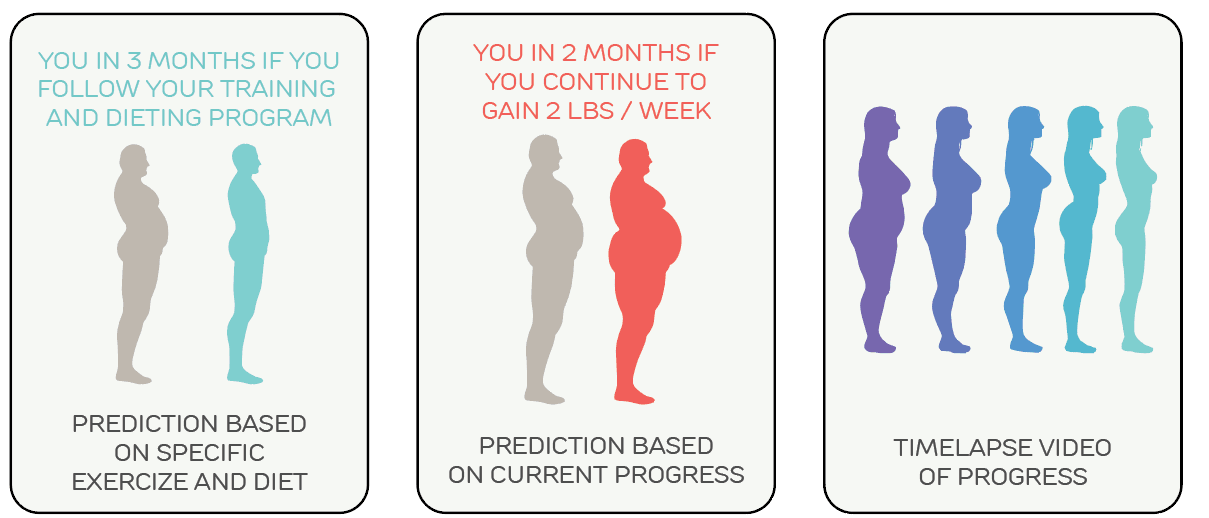 We're lucky enough to have fans all over the world and will try to reach as many of you as we can! 💪  But unfortunately, there are some factors that limit the number of countries on our list… Due to ShapeScale's size and weight shipping will have to be largely done by land and sea. What's more is that restrictions on national safety regulations, customs and duty make selling to a large variety of countries from day 1 incredibly difficult.
So here is the list of countries where we'll initially start shipping:
United States
Canada
United Kingdom
European Union member states (including the EFTA countries)
Australia
New Zealand
Singapore
Hong Kong

Well, just think about the facts that you've been using the same scale for the past 25 years and nothing has changed since… Don't you think it's a bit outdated by now? Let me help with this: IT IS.
MORE THAN JUST NUMBERS
Just simply ask yourself: "Am I satisfied with my scale? Does it tell me what I really need to hear?" I'm pretty sure that the answer to both of these questions is a big "NO".
SHAPESCALE VISUALIZES NUMBERS
When you step on your conventional scale and it gives you a simple, meaningless number. You have no idea what proportion of your weight is fat and what proportion is muscle. Plus, you can't see your body and its progression realistically with this number and what's more, you can't appreciate yourself and feel rewarded after all those hours spent in the gym.
MAKE SENSE OF WHAT WORKS AND WHAT DOESN'T
ShapeScale provides you with all the data your conventional scale will never do. It simply gives you the meaning behind the numbers. You won't only see your body weight, but will also see the localized fat and muscle content of your body and will be able to track any little changes.
Instead of making you feel miserable for not dropping a single pound, ShapeScale will show you that it's simply because you are gaining muscles and not because you are not losing fat.

ShapeScale will be primarily launched for personal use, which means that it will support 2 users with the basic subscription plans. However, you'll be able to add more users to your plan by paying a small additional amount for each extra user.
The limitation in the number of users supported can be explained by the way scans are stored and processed. All of this storing and processing need to happen in the cloud, which carries some high costs to a certain degree. Therefore, we have no choice, but to set some limitations to the free personal service to avoid abuse.
WHAT IF I WANT TO USE IT IN COMMERCIAL SETTINGS?
Due to high demand, we'll launch a business version too as soon as possible. For this reason, if you're interested in the business use, we'd like to ask you to fill in this short form to help us understand your needs and wants for the business plan and also to leave your contact details with us so we can get in touch once we have some further information.👉https://shapescale.typeform.com/to/h9qC7D.
So what if you buy a ShapeScale now, but would like to use it for business purposes at a later point? No problem at all. You'll be able to use the same ShapeScale and simply upgrade to the commercial version.

One of our main priorities is to give you a weight measurement you can trust.
ShapeScale's data accuracy, let it be girth or body fat, is dependent on its depth accuracy, which is down to a sixteenth of an inch. Our body fat data is much more accurate than that of regular scales because of algorithms similar to hydrostatic weighing that makes use of body volume and density to determine the user's body fat mass.
BETTER THAN ANY BATHROOM SCALE YOU'VE SEEN
While our measurements are more accurate than regular scales, they are not as accurate as DEXA/DXA scans which are able to measure your bone density. However, what is unique about ShapeScale is our ability to visualize areas of where exactly you have been losing fat and gaining muscle using depth sensing and software algorithms.
SHAPESCALE WAS BORN OUT OF FRUSTRATION WITH INACCURATE SCALES
We understand how important accuracy is and the frustration when your traditional scale lets you down with inconsistent and inaccurate readings. That's why we have been working on ways to get you better and better data to guarantee indisputable results.

There are endless opportunities for ShapeScale, not only inside, but outside of fitness as well. Our aim is to maximise its potential in the future through partnering with other businesses.
Since ShapeScale does not only have your girth measurements, but also a photorealistic 3D scan of yourself, it absolutely has the ability to take online shopping and tailor-made clothing to the next level. While it's not going to be one of ShapeScale's launch features, we have plans to make this happen and open up towards the Fashion industry and work together with 3rd parties to explore potential service opportunities that go beyond our work.
Just imagine how much time you'll save by selecting your outfits virtually. 😉

Yes. To make it convenient, practical and easy-to-use for everyone, ShapeScale will have basic integration with Apple Health. Additionally, to allow the ShapeScale app to help you correlating changes within your lifestyle to changes in physique and health, it's important to connect your nutrition and exercise data. For this reason, we're also exploring the feasibility of MyFitnessPal and Fitbit partnerships.
Hopefully, by now, all your questions have been answered, the mystery has started to fade away and we made you even more thrilled about ShapeScale than before. Don't forget, you still have time to sign up for our waiting list, participate in our pre-launch contest and get those points rolling.
If you have any further questions or thoughts that you'd like to share with us, just shoot us an email! Otherwise, keep your eyes opened cause ShapeScale is launching very soon!