Product
How ShapeScale Will Help Build Muscle & Get Ripped!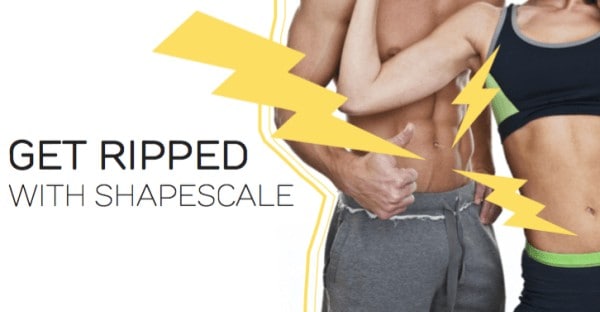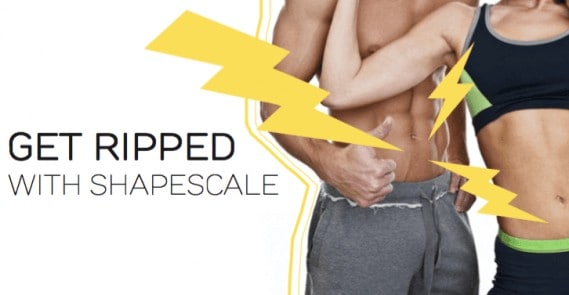 Learn the basics
Common mistakes
Strength training builds muscle, which can make you gain weight. More muscle is more calories burned, meaning fat loss. Your body-weight can also stay the same while your muscle mass increases and body fat decreases. Essentially, tracking muscle gain is not an easy process. However, in order to get maximum production and minimal frustration from your bodybuilding training, it is absolutely crucial to have a good tracking program. Here's everything you need to track your muscle building journey and how ShapeScale will help you get totally ripped!
SO, HOW DO YOU KNOW IF YOUR BODYBUILDING IS GOING WELL?
A common way to check muscle mass progress is to use a tape measure. Consistency is key but it is hard to keep the conditions the same each time. Not to mention, it is a very tedious process. Further, tape measurements will only provide an incomplete picture as your arm can get bigger if you eat 10 big macs and avoid exercising altogether. Lastly, it is only useful in monthly or yearly measurements. It is not of a great value for short-term progress measurements.

ShapeScale, on the other hand, will provide you with body girth measurements in under a minute. The measurements are also much more accurate as no human error is involved and our sensor is accurate to less than a sixteenth of an inch. This also means that the tiniest changes can be detected.
SHAPESCALE WILL TELL YOU IF IT IS MUSCLE OR FAT
What's more, ShapeScale will tell you if your larger arm is a result of muscle gains or is it just fat. This valuable information will better allow you to assess the effectiveness of your training program. It will tell you where you are growing, which muscle groups are responding and which may need to be attacked in a different way. Then you will be able to adjust your training, diet and rest to achieve better results.

I'm sure many of you have already done a couple of "bulk and cut" cycles over the years. The thing is, how successful these bulking and cutting cycles have been for you?
Are you eating enough, too much or too little to satisfy your goal?
If you're bulking are you adding too much excess fat?
During cutting, has scale weight remained the same for the past three weeks? Why?
Tracking the effects of your dietary changes is absolutely crucial for success. But can anyone be really bothered to measure themselves? It is a trivial process, but luckily we have ShapeScale to do it all for us in a matter of a mere minute.
Let's start with the basics:

COMMON MISTAKES WHEN BULKING UP
NOT EATING ENOUGH
Women tend to fall victim to this mistake a lot more than men. First of all, when you want to build a lot of muscle, you need to gain weight. A caloric surplus is still DEFINITELY required. ShapeScale will tell you whether your weight is going up or not so that you can adjust your diet accordingly. If for some reason you are not gaining any weight, you should increase by another extra 250-500 calories.
GROW BIG WITHOUT THE FAT
Of course, your current bathroom scale can tell you whether your weight is going up or down. However, the goal when bulking is not just to gain weight, eat whatever is available and get as "big" as fast as possible.

No, No, No. If building muscle was as easy as stuffing 8,000 calories of pizza, fries and burgers then I don't think anybody would have a problem gaining huge muscles. Instead, the goal here is to build quality lean muscle mass while keeping fat gains to an absolute minimum.
So how do you know whether you're gaining muscle or fat?
Your bathroom scale can't tell you. ShapeScale, however, will tell you exactly how much of your weight is fat and how much is muscle mass.
Waist measurements are particularly important here because it usually correlates with your body fat percentage. Your goal when lean bulking is to not allow your waist to go up by more than 1cm (0.4 inches) every month.
You can ditch your measurement tape, with ShapeScale's heat map feature, you will quickly and easily be able to visualize how much and where body fat is localized as well as any changes that occurred.

ShapeScale will provide you with the necessary data to adjust your diet and training to ensure muscle is being gained without a ton of fat coming with it. For example, if ShapeScale shows you that your weight gains are coming more from additional body fat than muscle gains, it is time to decrease caloric intake, increase protein consumption, meal frequency and/or sleep.
If on the other hand, no weight or muscle gains are occurring despite increasing calories, up your calorie intake, change your macronutrient ratios and/or decrease aerobic exercise.
By being able to accurately measure body fat and body muscle, ShapeScale will prevent you from gaining fat during your bulking phase and therefore spare you hours dieting away all that fat which will only lead to muscle loss (the very last thing you'd want!)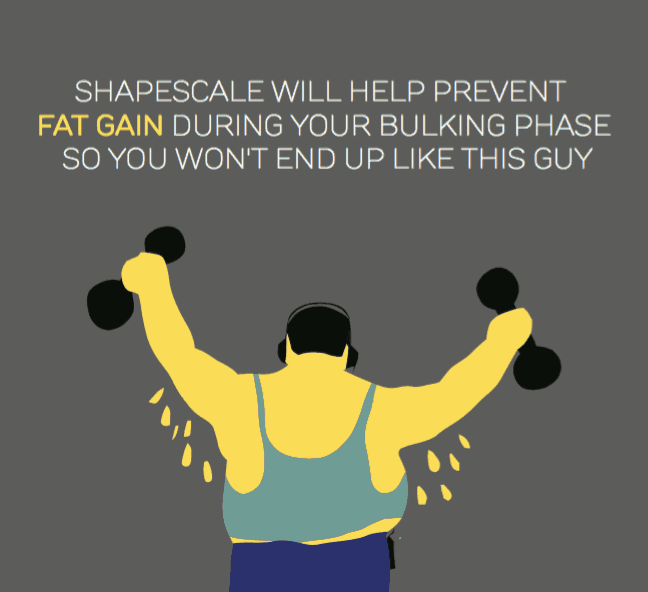 REMEMBER: While you want to have excess calories while bulking, the majority of those calories should be from clean healthy foods: lean cuts of meat, complex carbohydrates and healthy fats. Bulking is the time to put on size but the majority of it should be muscle, not fat. A diet riddled with junk food will result in little muscle gain and plenty of fat storage.
COMMON MISTAKES WHEN CUTTING
UNDEREATING AND OVERTRAINING
The typical old-school approach to cutting is really about just losing weight achieved by an extra large reduction in calorie intake and a huge increase in cardio.
Everything with the above approach is wrong and very counterproductive.
Yes, of course, you will lose weight. But weight isn't just fat and includes muscle too. Yes, the lean muscle you worked so hard for to build. Your body also senses starvation mode and slows down your metabolism. Luckily, ShapeScale will be able to tell you if you're losing all that precious muscle so that you can intelligently adjust your diet and training.
If for example, ShapeScale shows you that you're losing your hard-earned muscle, you might want to introduce more protein into your diet (Aim for a gram of protein per kilo of bodyweight) and/or slow down with your extensive cardio.
UNCONTROLLABLE REFEEDS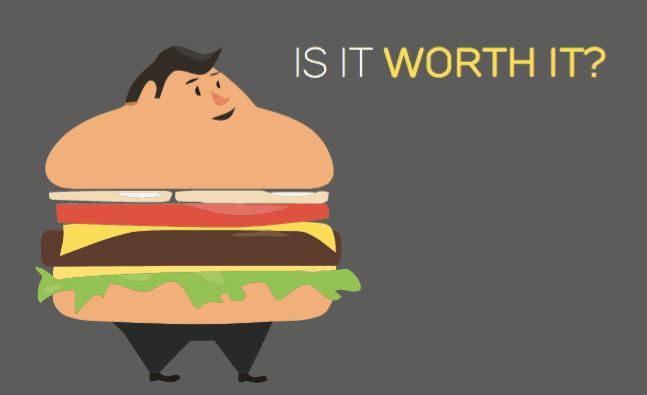 The most favorite time of the week; cheat day! Cheat days are when you eat whatever you want in excessive amounts. There are plenty of benefits to having cheat days including increased leptin levels which speed up metabolism. Cheat days also decrease hunger and provide a mental break from dieting. However, it is easy to go overboard and gain fat – the opposite of what we want to achieve during the cutting phase.
ShapeScale will be able to detect any "damages" your cheat day caused to your body so you'll think twice about ordering that additional pizza the next time you have a cheat day.

A GRADUAL PROCESS
Another important thing to stress is that gaining muscle is a gradual process. There is a limit to how much muscle your body can create in a given time. And that depends mainly on how close you are to your genetic potential. A complete beginner may be able to gain 20lbs (9kg) or muscle in his first year whereas someone training for 4 years may only be able to gain 4 pounds (2kg) a year.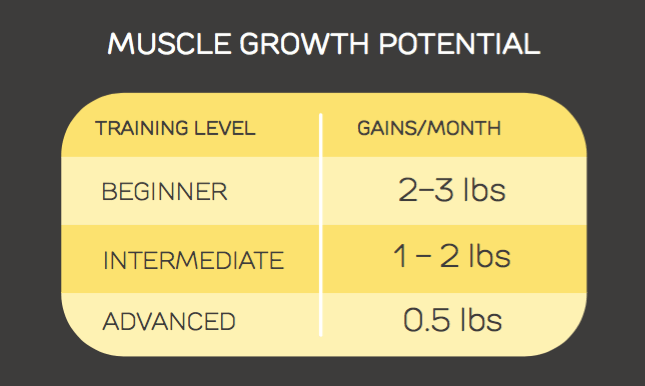 The problem with conventional tracking methods is that they are unable to detect small changes. Since muscle can only be gained so fast, solely relying on these ways of tracking can be demotivating. Not being able to see how your efforts translate to progress can be detrimental to motivation and is one of the key reasons why people give up. ShapeScale's daily body scans together with a time-lapse video allow for the tiniest body changes to be detected. You will be able to see day-to-day changes that none of the conventional methods can detect.
PROPORTION AND SYMMETRY
A key requirement for bodybuilding success is the development of as much muscle mass as possible while keeping body-fat levels low. While these goals are fundamentally important, the real key to bodybuilding, however, is the development of a symmetrically proportional physique. That's where there is an obvious balance between both sides of the body and everything seems to fall into a harmonious whole.
Frank Zane or Chris Dickerson are examples of bodybuilders with great symmetry.
With ShapeScale you will immediately be able to identify whether one side of your body is stronger or weaker than the other.
And although some people are naturally blessed with symmetry, with symmetry and proportion being largely determined by genetics, it does not mean that one cannot work to bring all muscle groups into line. Most of us, with proper planning and attention to detail, can make great progress.
TO BE AT YOUR BEST AESTHETICALLY AND FUNCTIONALLY, GOOD SYMMETRY AND PROPORTION IS A MUST
ShapeScale will be able to accurately determine where our individual body parts fall in terms of symmetry and proportion. Both the photorealistic model of yourself as well as individual girth measurements will help to identify the weak points. And also provide you with knowledge of where improvements need to be made.
If one muscle group is out by however much, it will need to be prioritized. This information will help you develop a better workout regime and guide isolation exercises to help you "fill in the gaps" and achieve that balanced physique.
For example, if ShapeScale displays girth measurements growth in all areas except your calves, you should change your calf training for example by increasing the intensity.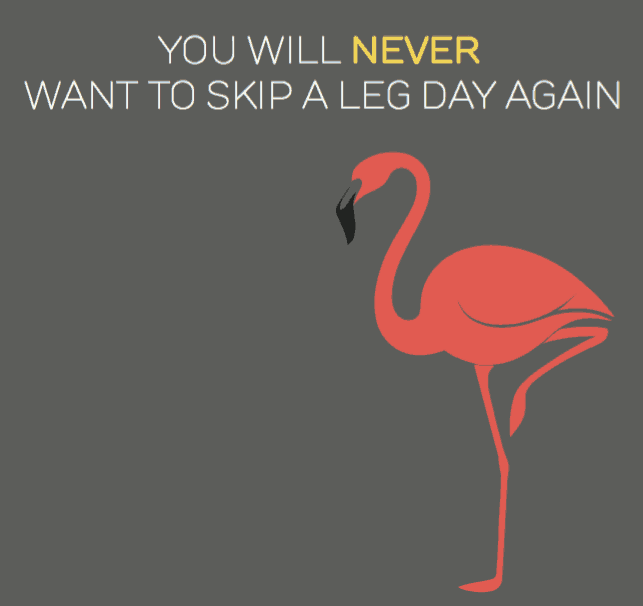 WHY IS IT IMPORTANT?
In addition to its aesthetic value, a symmetrical body promotes optimal physical performance and is also less prone to injury. All the muscles in our bodies are designed to work in harmony. Whenever we complete a functional task, we enlist multiple muscle groups.
If there is an imbalance between muscle groups, one area is forced to shoulder the load and excessive pressure is placed on the supporting joint. This leads to injury and weakness in performance.
BALANCED STRENGTH BETWEEN BOTH SIDES OF THE BODY, SYMMETRY, IS NATURE'S PREFERRED STATE
With ShapeScale you can easily detect muscle imbalances and asymmetry and thus correct your workouts accordingly. You can prevent injuries and you'll be on your way to achieving that symmetrical look.

Many of us become too focused on numbers. Sure, recording body metrics will allow you to easily track and compare progress over time. However, it's not all about the numbers. Like any good story, pictures add another dimension. When it comes to fitness progress, a photo can be a highly motivational tracking method.
However, we live with ourselves every day, and our self-perception is shaped by many factors, most of them psychological. So when you look in the mirror, you might not see the changes that you are looking for!
ShapeScale scans, however, can add a level of objectivity. With it's highly photorealistic body scans, it is hard to miss the changes that are taking place.
MAKE EVERY REP COUNT
The knowledge ShapeScale will provide you with will put you way ahead of the game. ShapeScale will quickly identify potential stumbling blocks and guide your decisions on when and what adjustments to make to your diet, supplements, weight training and other lifestyle factors to keep the muscle gains coming!
Tracking your progress is vital to the success of your bodybuilding program. ShapeScale will ensure that every decision you make brings you closer to achieving your fitness goal.