Exercising
The 10 Greatest Weight Lifting Lessons
Read on to find out everything you need to know about weight lifting.
How much weight
When to add more weight
Free weights vs machine weights
Rest
Nutrition
Download Our FREE
Spartan Race Training Plan
Our comprehensive training plan provides you with 30-days of exercises right up to race day!
As great as cardio is, weight training is a perfect complement to your hours on the treadmill – and sometimes, it's even better for your body. In this article, we delve into some important facts about weight training. We answer all your questions. Read on to find out everything you need to know about weightlifting.

CHOOSE THE RIGHT WEIGHT
Choosing the weights that are right for you is very important and can be difficult to figure out if you're completely new to resistance training. Simply testing your one-rep max is not the best idea. Instead, you should find a weight with which you can perform 10 reps. If you feel you can perform more than 10, go heavier. If you're struggling to get 10, go for a lighter dumbbell. Once you hit a weight that feels challenging, where you need to slow down to complete your reps with a good form, use that for your first set.
Then take this information to determine what weight to use for the reps prescribed in your particular workout. For example, if you squat forty pounds for 10 reps and need to squat 6-8 reps per set, take 60-80 percent of your 10-rep weight. In this instance, you would use 25-32 pounds for your set.

LIFTING HEAVIER WILL CHALLENGE AND CHANGE YOUR BODY FOR THE BETTER
Once you determine the right weight to start with, it is important to increase this weight if you want to progress.  You need to introduce new stimuli each week so that your body is forced to push beyond what it's adapted to doing. If you push the same weight every week you can expect to hit a plateau.
One of my favorite quotes is, 'If it doesn't challenge you, it doesn't change you.'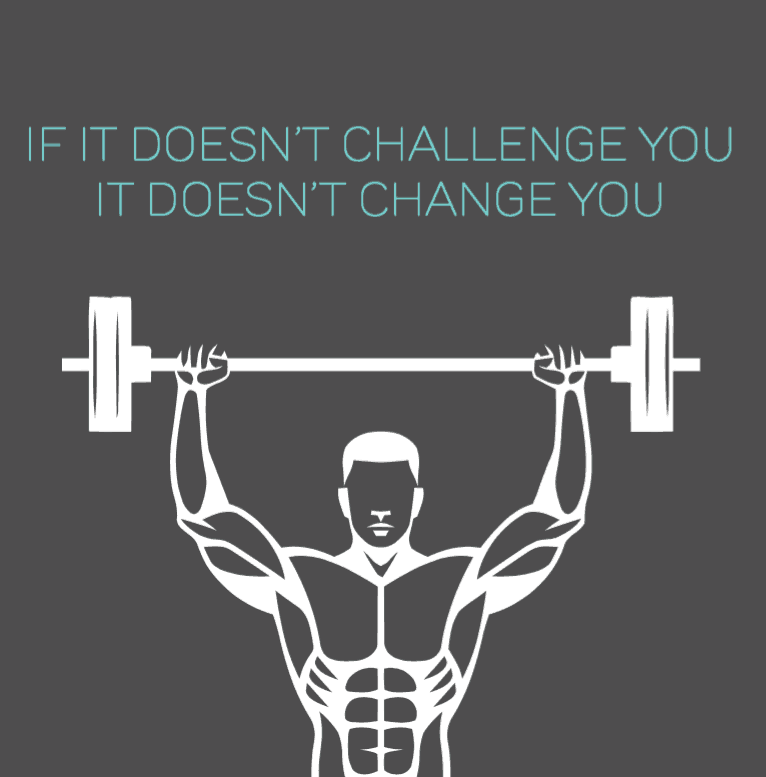 Take notice of the speed of your lift and how you feel after you complete your sets. These are good indicators of whether you should progress to heavier weights. If your last reps are flow and you are left sweaty and out of breath, you're using the right weight. However, if you are performing the last reps easily, it is an indication you should go heavier.
But we're not talking humongous increases. We recommend you increase the weight by five pounds every week. There is a balance between pushing yourself and listening to your body's limits. If you're struggling so much you lose your form, take the weight down a little.

TRAIN HARD, RECOVER HARDER
Many beginners believe that the more they exercise, the faster they will reach their goals. Wrong. Results in weight training is all about recovery. If you perform weight training exercises without letting your body recover completely from the previous session you may be doing more harm than good. When you work hard, your muscles get broken down. You need to take a rest day to allow the muscles to rebuild themselves.
Plan to strength train 2-4 times per week for 30-60 minutes. Space your workouts so your muscles are primed and ready to go each time you set foot in the weight room.

The amount of break time you take determines how your muscles adapt to the movement. If you wait too long to move your muscles again, they become cold, which increases the risk of injury due to muscle damage. On the other hand, if you don't rest long enough, your body can't replenish the muscles' energy efficiently, so you're exercising in a fatigued state. This can lead to poor form and therefore injury.
The amount of time you should rest for largely depends on what you're looking to gain.
IF YOUR GOAL IS TO GET STRONGER, FASTER:
A recent study found that when performing a three-rep move (that means you'd be pumping 85 percent or more of the max weight you can lift), you should rest a minimum of two minutes between sets.  This will maximize your strength gains.
IF YOUR GOAL IS TO BUILD MORE MUSCLE:
In order to sculpt defined muscles, you should slightly reduce your rest time (30-90 seconds). But remember, if you eliminate the rest period altogether, you change the physiological stress on the body, making it more of an endurance workout, and this is not an effective way to build muscle.
IF YOUR GOAL IS TO LOSE WEIGHT:
Eliminating rest periods and pushing through a 30-minute workout without stopping will certainly help you burn more calories. Your rest in between sets should be minimal. A half minute rest has been shown to increase caloric burn by 50 percent compared to, say, a three-minute rest period.
TIP: Make sure you bring a bottle of water to the gym so you don't waste time making trips to the water fountain

Free weights activate and strain more muscles than machine eights. This is because lifting free weights require more muscles to move the weight and allow the body to stabilize than machine weights. With machines, the weighted path is restricted and controlled by the machinery structure and fewer ancillary muscles are required during the lift, pull, or push.
However, machines can isolate better, and therefore can be useful for structural od bodybuilding purposes. Machines also have the benefit of challenging muscles. Many machines come with cams that vary the resistance. If used properly, it can cause a progressive loading of resistance on the target muscle.
We recommend you use both to get variety and best results.

STRETCH FOR MUSCLE GROWTH SUCCESS
Stretching after weightlifting gives you the cuts and the toned body you're after. Research has shown that if you do stretching soon after weight training, your body gets toned faster than originally expected.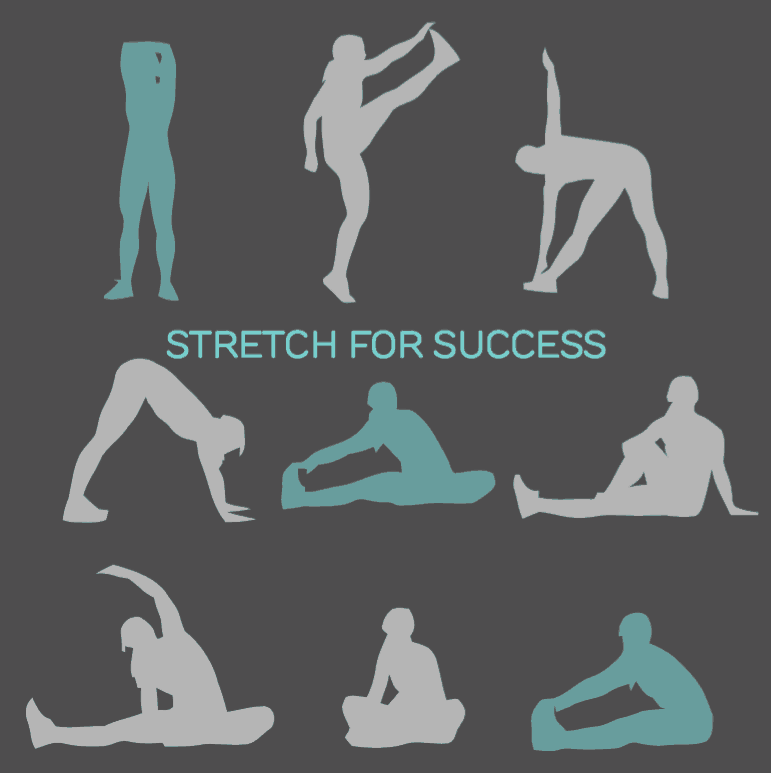 WHEN TO STRETCH
Stretching a cold muscle can cause injuries that can range from minor strains to actual tears. Research shows that stretching the muscle before can cause a significant loss of strength during your lifts.
It is best to perform intense stretching immediately after completing your workout. Intense stretching means that it should hurt (although you must know your body well enough to realize if you are going too far), with each extreme stretch lasting for 30-60 seconds.

ABS ARE MADE IN THE KITCHEN
Don't expect to have a strong, healthy body if you don't supply it with what it needs. You might be spending hours in the gym,  but research indicates that what you eat may be the difference between meeting your goals and falling short.
NUTRITION BEFORE YOUR WORKOUT
Carbohydrates are your body's preferred fuel source. You want the carbohydrate you consume to be utilized as an immediate fuel source or to restore glycogen levels. You don't want it to be stored as fat. Include complex carbohydrates like oats or sweet potatoes.
NUTRITION AFTER YOUR WORKOUT
Protein is essential for tissue growth and repair. As your body is continuously breaking down proteins, your diet must provide sufficient quantities. Recommended intakes vary and largely depend on your body size and activity level. However, a post-workout protein is almost universally helpful to aid muscle repair, recovery, and growth.
If you want to take it more seriously, you can also calculate your macronutrient requirements for optimal results. You can easily calculate everything here.
We also compiled a list of the best apps that make tracking food a lot easier! Check it out!
TOP APPS TO TRACK CALORIES AND MACROS

FEELING SORE IS NOT AN INDICATOR OF A GOOD WORKOUT
Muscles tear when you exercise, and when given proper recovery, they bounce back stronger. If you do work hard, the tearing does cause a little soreness. If you feel completely nothing, then you probably did not stimulate your muscles enough to get results.
However, a little soreness is different from being so sore you are unable to move. In this case, you've gone too far with your training. Rhabdomyolysis is a medical term for excessive muscle tearing. This results in the release of muscle fiber contents (called myoglobin) into the bloodstream. This is harmful to the kidney and can result in kidney damage, extreme fatigue, intense joint and muscle pain.
Soreness is your body's way of saying that it needs recovery before the next session.  By continuously leaving your body in a sore state, you will eventually end-up over-trained.

The bench press. Each year in the U.S. a few people die from dropping a barbell on their chest and choking. It is important to take support while doing the bench press to monitor the safety of your lift. Also, make sure you don't lift weights that are too heavy during the initial phase of training.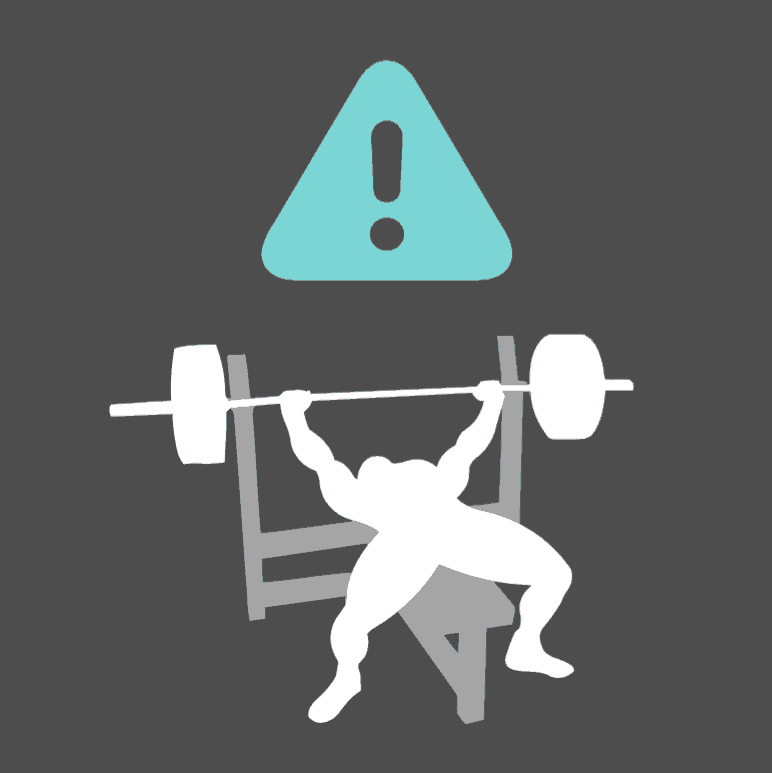 Now that you have all the knowledge, GO LIFT! 
Download Our FREE
Spartan Race Training Plan
Our comprehensive training plan provides you with 30-days of exercises right up to race day!