Exercising
Best SMART Goal Setting To Boost Your Fitness
Download Our FREE
Spartan Race Training Plan
Our comprehensive training plan provides you with 30-days of exercises right up to race day!
We all have made goals. I made a goal that I would learn french back in December and it is March and so far I can only say colors. So, not exactly fluent. So where did I go wrong? Why did this goal not work? Well, it is mostly because I set for myself a very board vague and non-effective goal. So how do we create an effective goal?
The Ultimate Guide to Tracking Progress
According to the goal master himself, Tony Robbins, there is actually a very simple formula to create a goal that you can actually achieve. The tried and true method of goal setting is known a SMART goal. An acronym SMART stands for specific, measurable, attainable, realistic, and time-bound.
So to exemplify what it means to make a SMART goal. Let's set a really common and very vague goal of running a marathon. 
Breaking It Down
Let's start with being specific. When goal-setting, your goal must be very clear and defined not only to you but to others as well. It should be precise, detailed, and capable of answering questions instead of creating more. So, in the case of running the marathon. I want to run the San Francisco Marathon. Now I have a specific race set in mind.
On to the second step which is having your goal be measurable. This is arguably one of the most significant steps to making your goal. Because it really zeros in on what you are setting yourself out to do. So include dates, exact numbers, and amounts in your goal. To go back to the example of the marathon, it shouldn't be, "run a marathon". It should state a specific benchmark, by a specific time. Therefore, turning the goal into "I will run the San Francisco Marathon in two and thirty-minutes on July 24th, 2018." If the goal is broken down into steps, each step must be measurable, as well.
Moving onto 'A' which stands for attainable. Your goal must be something you can reasonably attain. You should be able to accomplish it within the constraints of time, money, environment, as well as your skills and abilities and other important factors. Did I choose a marathon that was two months away? Or have I given myself the time to train for this race appropriately so that I can reasonably attain this goal?
The notion of attainability also runs into the theme of the next step which is being realistic. Goals should be in line with the direction that you're heading in life. Keep your goals in line with your true purpose. Don't waste time with unrealistic goals. So, let's say okay well I've only ever run a 10k so maybe let's scale the goal back to doing a Half Marathon. This saves you from setting yourself up for failure. That's not to say that you will never run that marathon but pushing yourself beyond what you can reasonably is one of the main drivers for simply giving up on your goal.
Lastly, the goal should be time bound. Always set specific deadlines for the completion of your goal. In the case of the marathon, it has a very clear date. However, you can also set the deadline yourself if you have goals such as lifting a certain amount or not eating sugar for a certain amount of time. Creating a target date of completion creates accountability and gives you more motivation. If you don't achieve your goal by your specific date, that's ok, adjust and keep moving forward. Always set a date for your goals.
So let's look at our original goal of "run a marathon" and compare it to our SMART goal of "Running the San Francisco Half Marathon on July 24th, 2018 in two hours and thirty minutes five months from now." Pretty different, right? With this method, you now have a clear path to what you want to accomplish. No more wandering.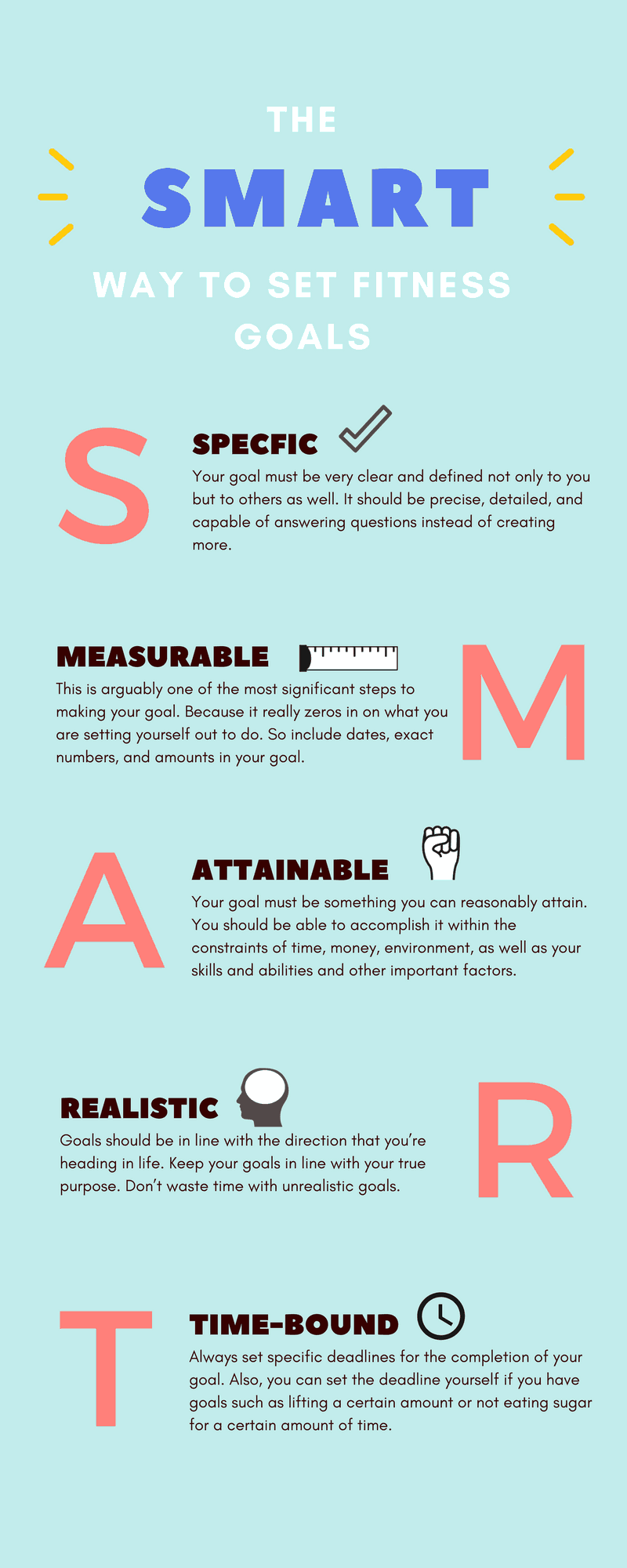 Listen to our podcast that's all about CES 2018, including the fitness tracker Skiin! We talk about the latest and most exciting fitness products that this year's convention had to offer. 
We also recently finished a series on Body Composition. Explaining how to measure changes in your body with different body analyzers. We discussed the biological makeup of our bodies and even when we should bulk and when it is time to cut.
We also have our weekly fitness newsletter! Here we deliver the latest articles on health and fitness once a week to your inbox. We hand-curate these articles based on what we believe is the most valuable information for you to progress towards your fitness goals.
Download Our FREE
Spartan Race Training Plan
Our comprehensive training plan provides you with 30-days of exercises right up to race day!