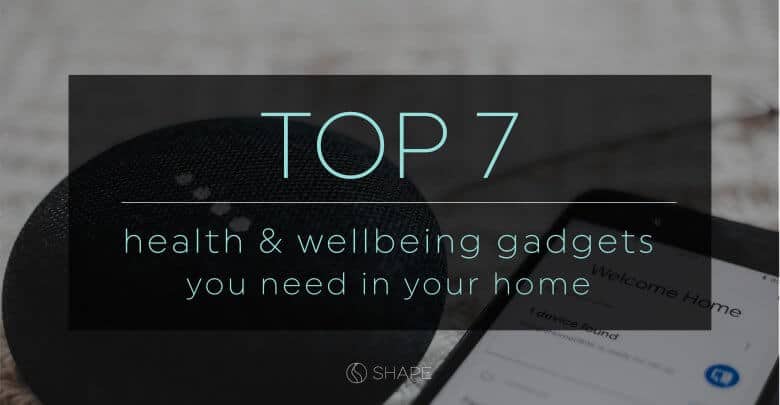 Maybe it's a bit too early to start writing that Christmas wish list, but it's never too early to pimp up your home with a few smart gadgets. Especially when we're talking about gadgets that can improve your health & wellbeing.
Since tech firms seem to be absolutely on fire, designing and bringing to life the coolest consumer electronics, the list is beginning to be endless. Hence, we narrowed it down for you.
Here's our top 7 health & wellbeing gadgets that are going to worth spending your money on.
Sleeping is an absolute necessary element for a healthy life. According to the National Heart, Lung, and Blood Institute adequate amounts of quality sleep can aid the protection of your mental and physical health, quality of life, and safety in the long run. And of course it also affects your everyday wellbeing, your cognitive abilities, your emotional state, and a lot more.
Learn About How To Conquer Sleep With Biohacking
There are several criteria that need to be met to satisfy your body's sleep needs. These include sleeping at the right time, getting all the different necessary types of sleep, sleeping enough, and sleeping well. But if any of these boxes are not ticked off that can lead to sleep deficiency, which is something you don't want. And it is something the Eight guys don't want either. Which is why they created a smart mattress to help you sleep better.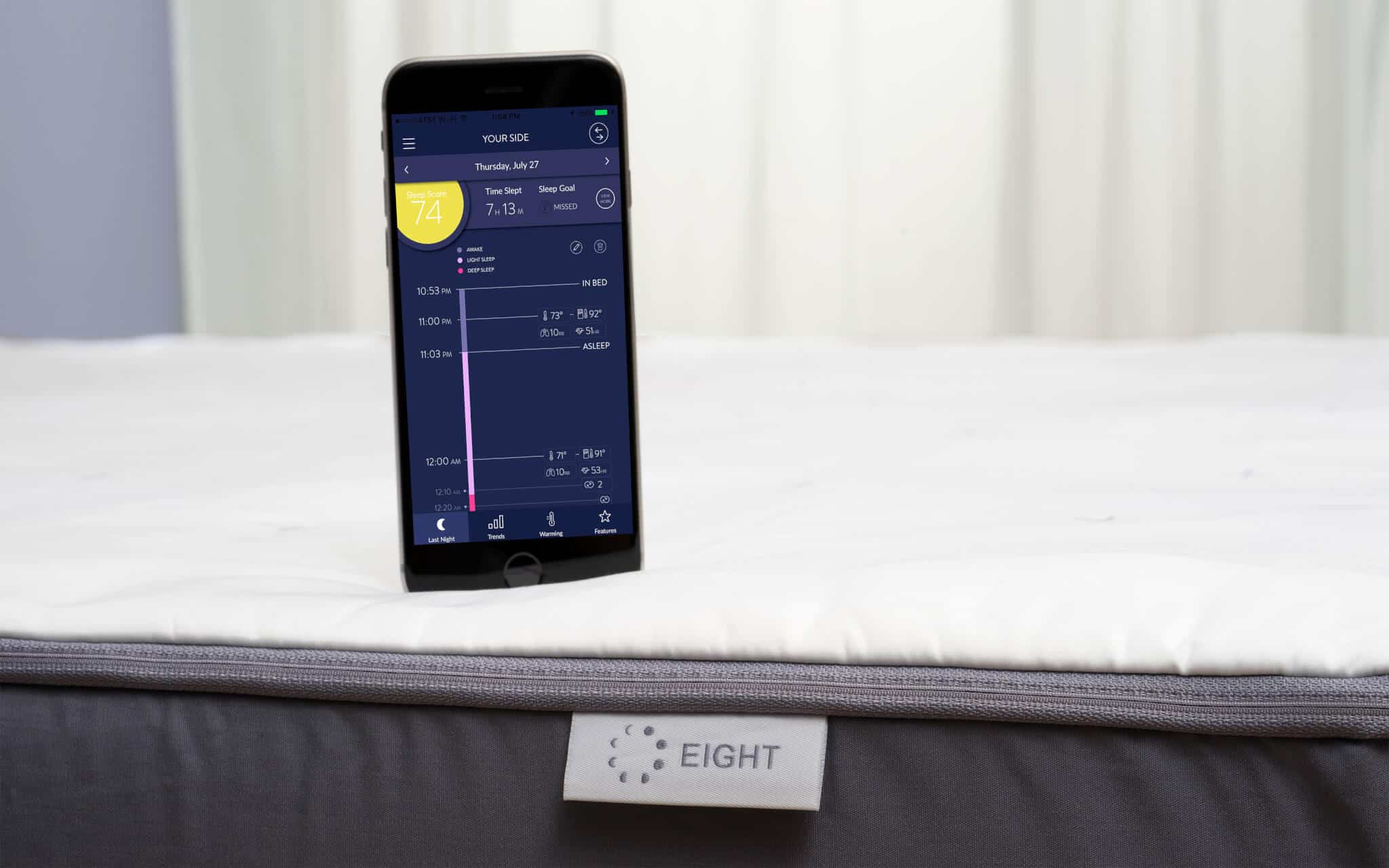 Eight Mattress Features & Benefits
On the basic level, the Eight mattresses follow the principles of most premium mattress brands. They use various high-density foam in each of their mattresses. These, depending on the price, may include types like, reactive foam, contouring memory foam, comfort transition foam and so on.
Additionally, they also use the highest quality materials for ensuring maximum comfort and the most ideal temperature during night. But the real deal lies within their technology. What makes their mattresses smart are the built-in features. These are sleep tracking, smart alarm, and temperature control.
The sleep tracking feature utilizes the mattress's built-in proprietary sensors to track patterns and bio-signals of your body while you're asleep. They track over 15 elements, some of which are directly concerned with your sleep, such as duration asleep, light and deep sleep, and heart rate. And external factors that can impact your sleep, like bed and room temperature.
All these data is then transferred to the Eight mobile app, where you can access your detailed sleep reports. These reports will help you to notice regular patterns and learn what your ideal sleeping conditions are. You can use the Eight smart alarm to wake up during your optimal light sleep periods. And the temperature control to optimize the temperature according to your needs.
Ultimately, with all these features you'll be able to improve your sleep for good.
Get the Eight smart mattress starting at $699 for better sleep.
If you want to live in a healthy home, which I assume you do, you have to pay attention to a number of factors. Creating a healthy environment depends on things like humidity, temperature and so on. This would normally mean that you have to run around every room with 6 different tools to track all the metrics you need.
While this might be good for your daily steps, the Netatmo guys realized that it is probably not the most efficient solution. And hence, they created a Smart Indoor Air Quality Monitor for our rescue.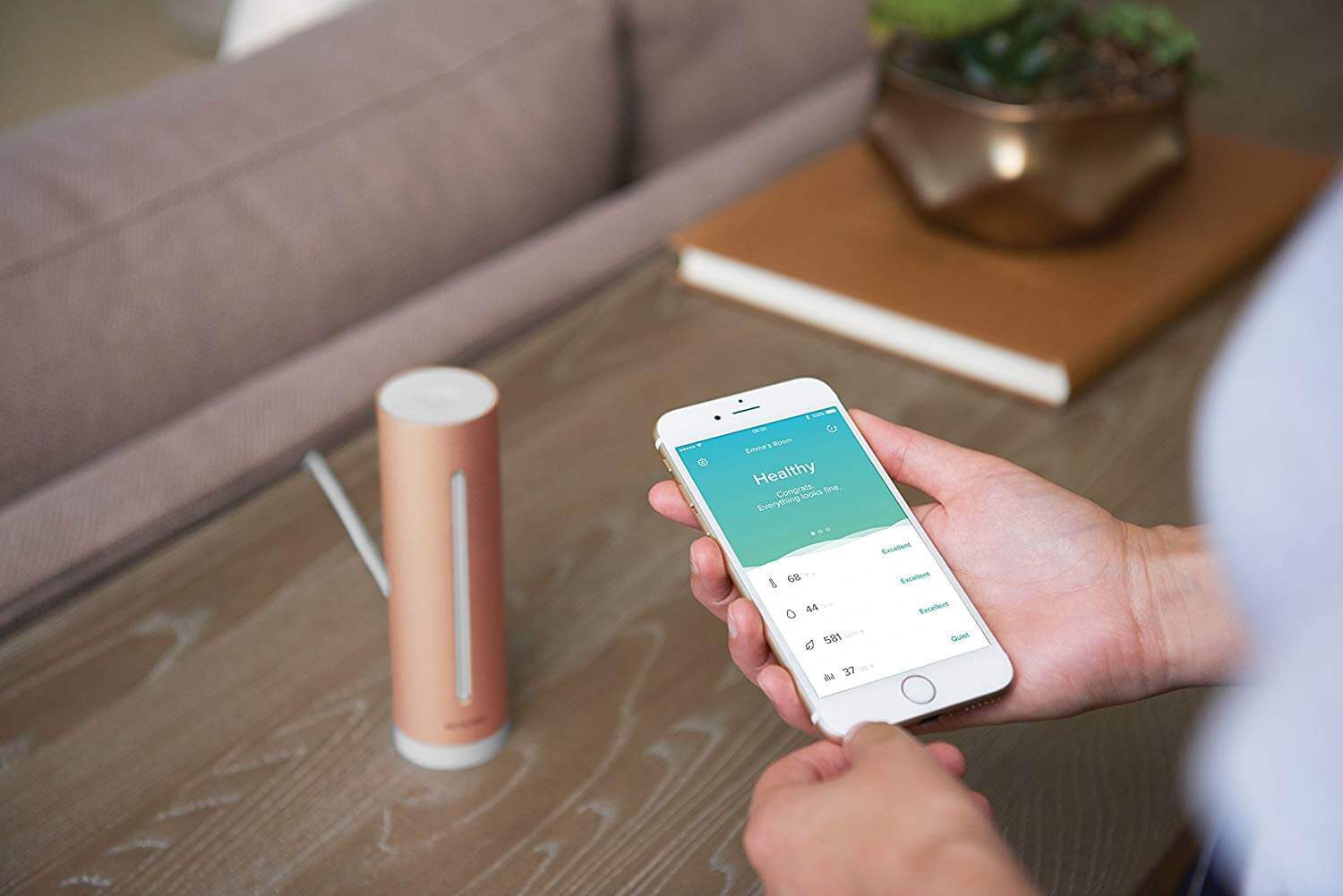 Smart Indoor Air Quality Monitor Features & Benefits
This tiny, elegant gadget packs 4 sensors in itself, which are all on a mission to make your home a healthier place. The first sensor focuses on the optimal humidity level. The second one looks at the air quality, warning when you should be worried about air pollution. The third one is sonometer that's concerned about noise levels. And the last one checks the indoor temperature.
Now all this data is good, but what's even better is that Netatmo also analyzes it for you. So all you'll need to do is open their mobile app and check the diagnosis. If the room is classified as 'healthy', congrats, your room passed the test in all four categories. But if there's a glitch in any metric, simply follow the suggestions of the app to make your spot healthier.
Additionally, the app won't just give you real-time data, but also reports dating back in time. Therefore, you'll be able to track how the various factors have been changing in your home. And, for instance find the combination of temperature, humidity and noise level at which you had that amazing night sleep a couple of weeks ago.
The ultimate goal here is to create an environment that will only benefit your health in the long run. With data tracked and analyzed by the app, you should be able to set each environmental factor to maximize your comfort, productivity and your sleeping quality.
Get the Netatmo Smart Indoor Air Quality Monitor for $99.99 for a healthier environment.
No one really likes to get ill. But unfortunately, we all do sometimes. And when it happens, it's good to have a magic tool that gives you fast and accurate feedback on your current state and also follows how your symptoms are changing. But obviously this magic tool is not going to be one of those old school thermometers that you cannot even trust for sure.
No, your magic tool is going to be the next generation of thermometers or how they call themselves 'the hottest thermometer', Thermo.
Thermo Features & Benefits
Thermo is a connected thermometer that optimizes your temperature measurements for maximum accuracy in two ways. First, unlike other thermometers, Thermo measures your temperature from your forehead. This is based on the fact that your temperature can be best detected from your temporal artery. The artery filled with blood coming from the core of your body.
Second, it has 16 infrared built-in sensors, which are promised to measure your temperature with a ±0.4°F accuracy. These two factors together have created a revolutionary method called 'HotSpot Sensor Technology' for temperature measuring.
The thermometer has an accompanying app that, after pairing with your device, will have some pretty useful features. You'll be able to create individual accounts with added personal data for up to 8 people. You'll also be able to add notes, log your further symptoms and medications and set reminders for checking your temperature over time.
Once your measurements are complete, Thermo will automatically sync the data with the right profile. And to make things even easier, it will also display your temperature on its LED screen immediately after the reading's done. Plus it'll tell you whether the measurements are within a healthy range based on your age.
Finally, the Thermo app will keep track of your temperature and health history. This history can be easily shared with your doctor for further consultation. Or if you feel too weak to get out of bed, you can simply get some in-app health advice. Sourcing the information from the Boston Children's Hospital, the Thermo app will give you suggestions on appropriate medicine and dosage based on your health data.
Get the Thermo smart thermometer for $99.95 for more accurate temperature measurements and easier health data logging.
Precisely following how your body is changing is a key not only to reach your fitness goals, but also to look after your health. And as you know, simply tracking your body weight number is not even close to a "precise following". Which is exactly why you need something more than a simple bathroom scale or a smart scale.
You need The smartest scale, ShapeScale that will provide you with meaningful and highly accurate metrics in a truly visual way.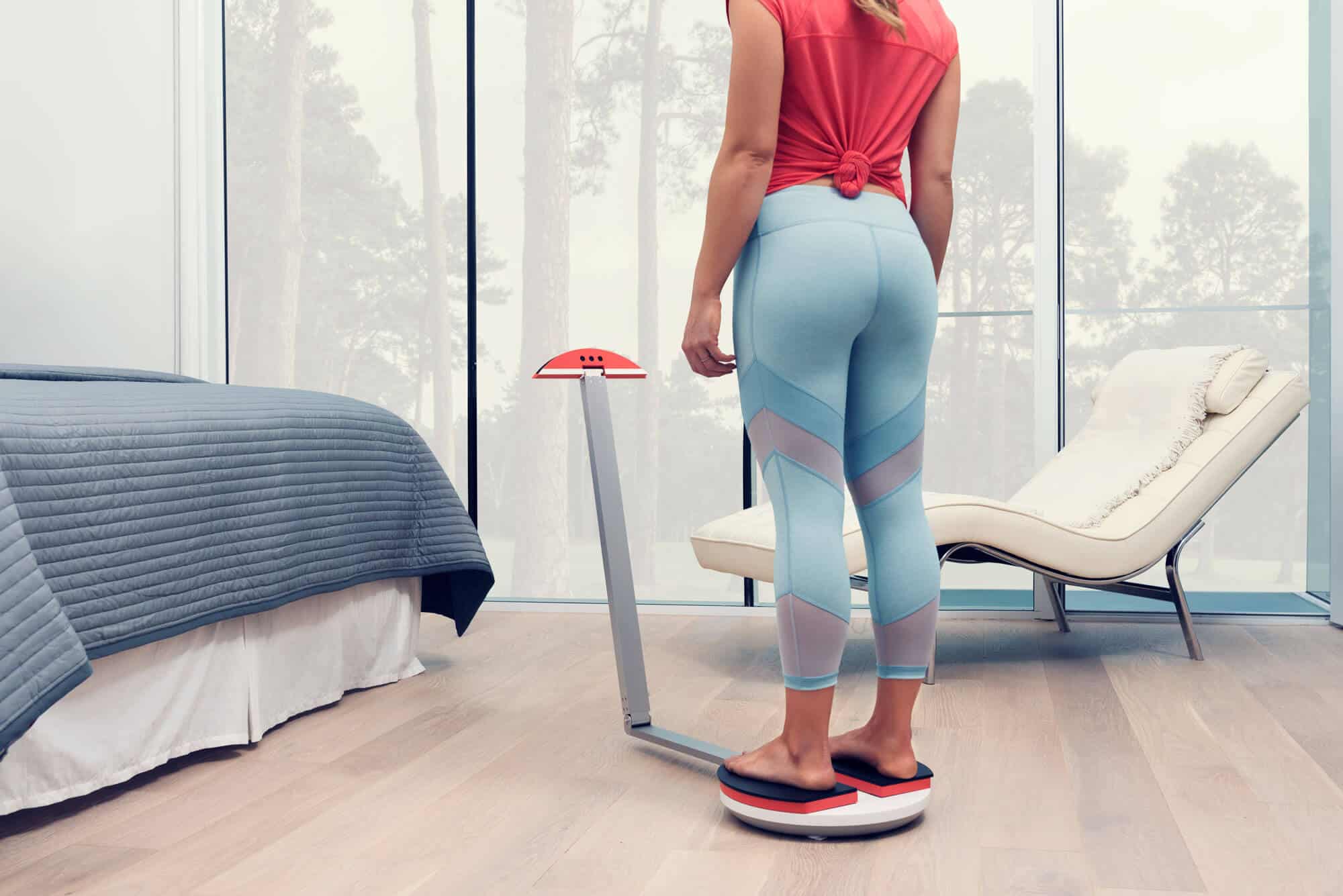 What Is ShapeScale
ShapeScale is the first of its kind 3D scanning scale that tracks and visualizes how your body has been changing over time. Once you step on ShapeScale its robotic arm rotates around your body. It uses the RGB+Depth sensor built in the sensor head to capture your body data. The data points and pictures captured by the sensor are then sent to our server that computes your photorealistic 3D avatar.
ShapeScale Features & Benefits
You can access your virtual avatar along with all the metrics measured by ShapeScale through the mobile app. These metrics include your weight, simple girth measurements, and overall, as well as localized body fat and lean mass data. These localized measurements coupled with the device's much higher accuracy than regular scales' already make ShapeScale the best personal fitness tracking solution.
Learn About The Future Of Fit-Tech
However, what really sets the bar high with ShapeScale is its interactive and visual features. ShapeScale augments its numeric data with your 3D body model, which makes the interpretation easier and also more engaging. Through the ShapeScale app you'll get access to the following features.
The Heat Map
The Heat Map feature will visually show how your body has been changing over time. It uses color-coded 3D variation heat maps to signal where you have been losing fat and/or gaining muscles with .
The Difference View
With the Difference view, you'll basically be able to compare your body shape at two different points in time. It will clearly visualize areas of growth and reduction with transparent 3D overlays.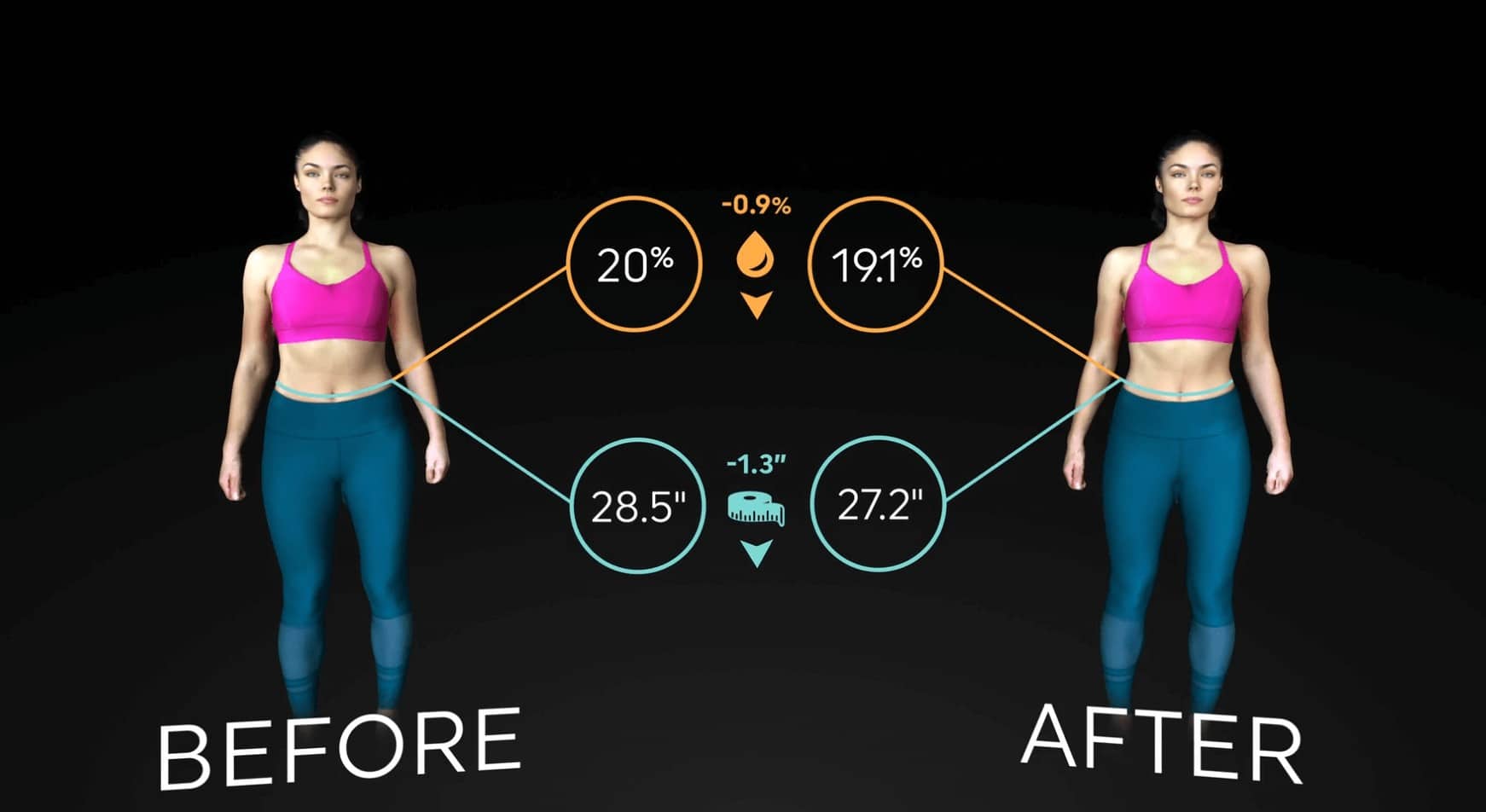 The Timelapse
And the 3D Timelapse will provide a timelapse of how your body has been changing over time. It's going to be a feature that you can post on Social Media, so you'll be able to share your journey with your family and friends.
Finally, ShapeScale will also use Artificial Intelligence to give you instant personalized audio feedback. This audio feedback will not just keep you on track but also help to stay motivated. So ultimately, you'll be able to think of ShapeScale as fitness buddy rather than a fitness tracker.
Pre-order ShapeScale for $349 for a better, more accurate and visual health & fitness tracking.
I'm sure we're all on the same page about wanting to drink clean water. However, buying a bottled Fiji water every day is obviously not sustainable for more than one reasons. Firstly, it is not an economically viable solution. Secondly, chemicals from plastic can also train into the water, which may have negative health effects. But most importantly it is definitely not environmentally sustainable.
Most people might already have Soma – or other similar – pitchers, which are great water filtering solutions. But let's be honest, you probably won't turn up to your Fly Wheel class with a a pitcher in your hands. So it's time to look at an even smarter and definitely smaller solution, The LARQ Bottle.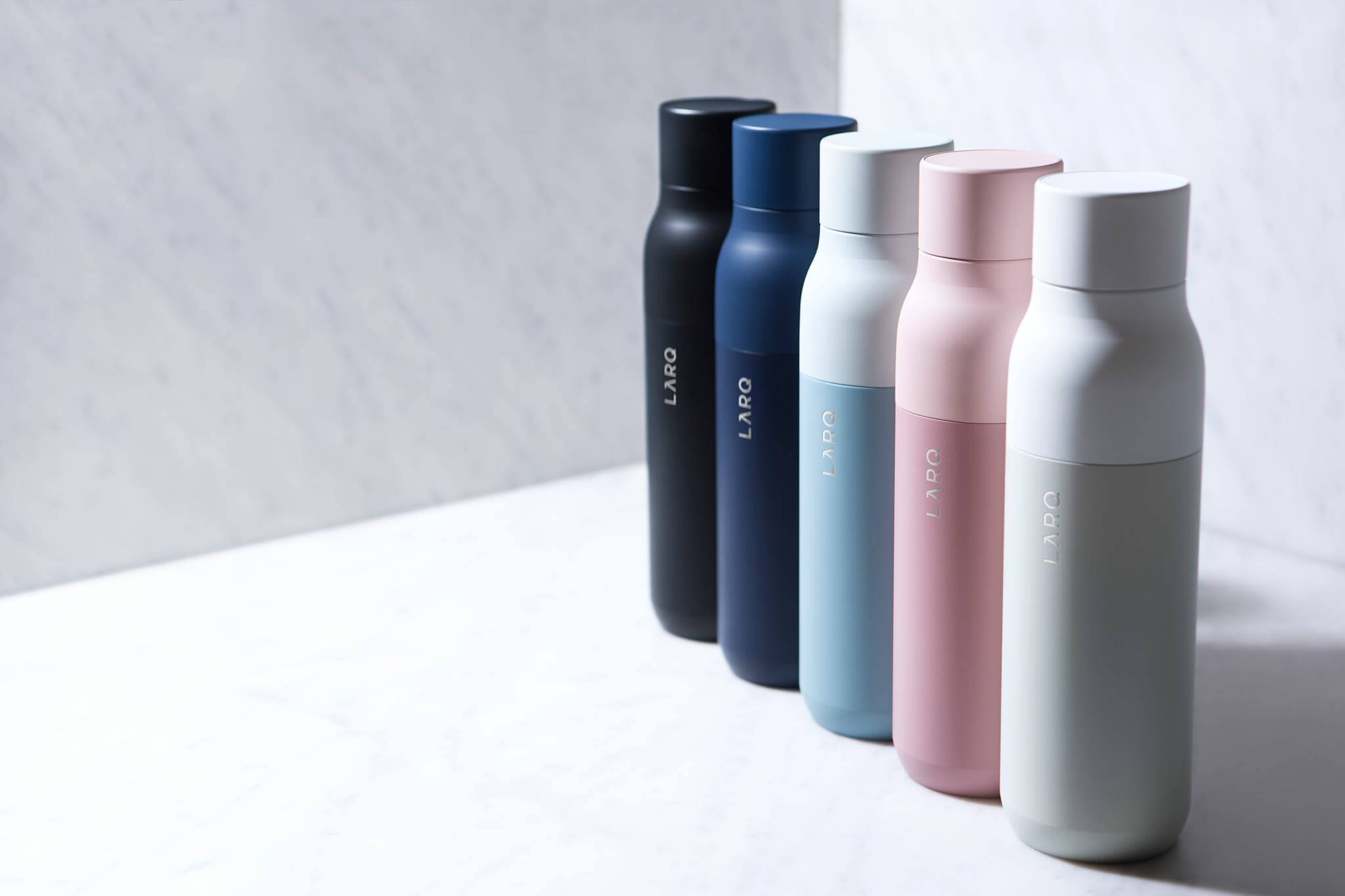 LARQ BOTTLE Features & Benefits
The LARQ Bottles are taking water purification to a next step. They use the most energy efficient and economical, non-toxic UV-C LED chips to purify your water on-the-go. After filling up your bottle, you simply have to press the button on the lid and you can enjoy your clean water in just a minute.
With the 'world's first portable digital purification system' LARQ promises to destroy all bacteria up to 99.9999% and all viruses up to 99.99%. Their high effectiveness is guaranteed by the 280 nonometer UV light they use, which has been proven to be an ideal method for killing germs.
Besides their great effectiveness,, with The LARQ Bottles will also provide you with maximum convenience. Their UV-C LED chips are battery powered and can last up to 2 months after fully charged. They have a smart activation system, which is responsible for self-cleaning the water and the bottle's inner part every 2 hours. Plus the bottles' double insulation also promises to keep your water cold for up to 24 hours.
And as a bonus point they also have a very sleek design and beautiful colors.
Pre-order The LARG Bottle for $95 for a better water purifying solution.
You might be already tracking your sleep with Eight's magic mattresses, but what about cuddling? Of course it's cute to cuddle an actual person and everything but honestly, whoever says it's something that improves their sleep probably lies.
So if you're not going for the cuteness, but want to have better night sleeps, you need an alternative solution.And what else would it be than Somnox, a sleep robot.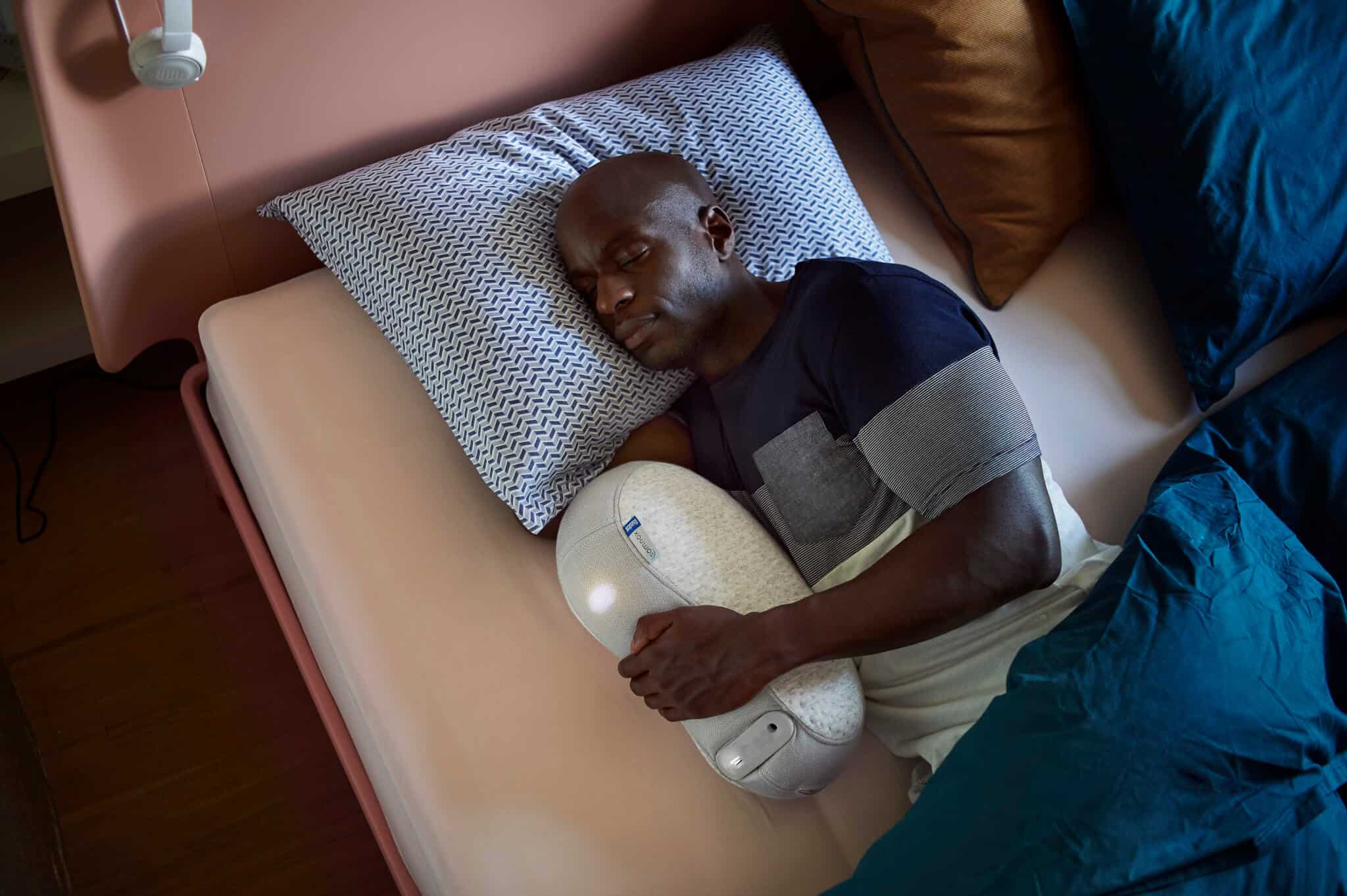 Somnox Features & Benefits
The Somnox sleep robot is entirely built on the principles of right breathing. Their research has shown that stress and anxiety can make it harder to reach a deep relaxation state and hence lower your sleep quality. On the other hand however, conscious deep breathing combined with relaxing sounds can help in reaching this deep relaxation state.
So along these lines of thoughts, the Somnox robot will "teach" you how to breath properly without you even realizing it. Once you cuddle the robot, which comes in the perfect shape and material for making you feel comfortable, your breathing will synchronize with the robot's breathing. This is a natural human reaction that happens when you're cuddling your partner too.
The robot has a more relaxed and slower breathing pattern, which, when adapted, will slow down your heart rate and blood pressure. These effects in combination with the soothing sounds will help you to reach a relaxed state faster. Keep cuddling the pillow all night and you'll not only fall asleep faster, but also have a longer and better quality sleep.
Use the Somnox mobile app to personalize the robot's sounds and breathing and improve your techniques with breathing exercises.
Pre-order the Somnox Sleep Robot for $549 for a more relaxing cuddling experience.
Not leaving the bathroom off the list, here's a real golden piece that will take the best care of your teeth. Now if you look at the Kolibree Ara toothbrush, you might think 'This looks like every other electric toothbrush. What's so special about it?'. Well, simply that it's the first AI powered toothbrush.
Kolibree Ara Oral Care Features & Benefits
That's right, these guys didn't win a CES Innovation Award in 2017 for nothing. The Ara toothbrush has an embedded 3D sensor that tracks how you're brushing your teeth. It sends the data to the Kolibree app where you're able to follow your teeth brushing patterns. Meaning that it keeps a log of the frequency, duration, and technique of brushing your teeth.
Most importantly it gives you an overview of the cleaned surfaces as well as spots that you've missed out on. Which is something that you could probably not be able to get a daily insight into otherwise. Unless, of course, you live with a dentist.
You'll be able to use all your brushing data that the app collects in real time to improve your technique. But of course you don't have to do it alone, as you have a virtual coach in the app who's there to help.
Get the Kolibree Ara for $129 for a better oral care.