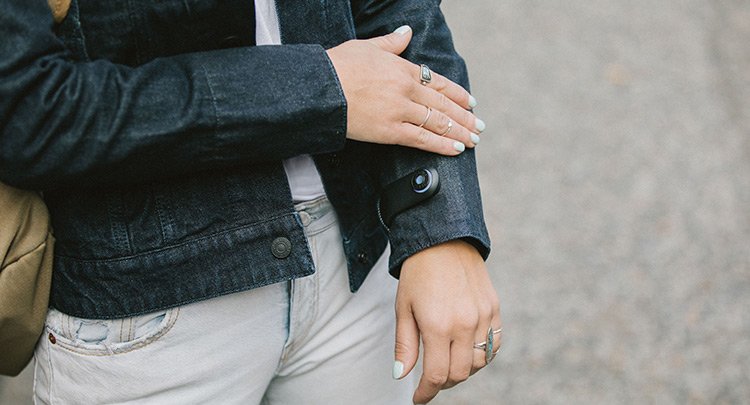 Make your closet a little bit smarter. Google's 'smart fabrics' launch of Google Jacquard has teamed up with the classic design of Levi's to create a jacket connects to your online life. The Levi's Commuter Trucker Jacket paired with Google Jacquard technology has touch and gesture interactivity sewn right into the material of the trendy jacket.
The Pavlok: The Smart Wearable
The tech, however, doesn't sacrifice the style. The threads of Jacquard have the feel and weight of normal yarn. The integration of the "tech-threads" is woven throughout the jacket. However, this integration is most noticeable in the "smart-sleeve" part of the jacket. Making the material slightly stiffer than the rest of the fabric. Also, the other giveaway that this is just any normal denim is the Bluetooth that clips to the cuff.

Making Your Commute Safer
Aimed towards folks who frequent their commute on a bike or a board the jacket allows you to control your device without actually handling it. Offering capabilities such as swiping through navigation notifications, changing the song, or answering a phone call. Functions that would take the risk out of operating your device while you're making your way to work.
The jacket is compatible with Android and iOS. In order to operate the capabilities of the jacket you will need a Google account and to download Jacquard app. Most of the capabilities of the jacket need headphones, which are not included. The charge of the jacket will last up to 14 hours. That's right, welcome to the reality of charging your clothes. You might be wondering how washer friendly is this techie jacket? Well, according to their website the device portion of the jacket is durable for ten washes. However, keep in mind that the jacket is still wearable even if the tech isn't operable.
What would you love to able to track to help you reach your fitness goals? 
That's it for this week's Fit-Tech Feature! Stay tuned for next week's look at fitness tech!
Listen to our podcast that's all about CES 2018, including the fitness tracker Skiin! We talk about the latest and most exciting fitness products that this year's convention had to offer.
We also recently finished a series on Body Composition. Explaining how to measure changes in your body with different body analyzers. We discussed the biological makeup of our bodies and even when we should bulk and when it is time to cut.
We also have our weekly fitness newsletter! Here we deliver the latest articles on health and fitness once a week to your inbox. We hand-curate these articles based on what we believe is the most valuable information for you to progress towards your fitness goals.