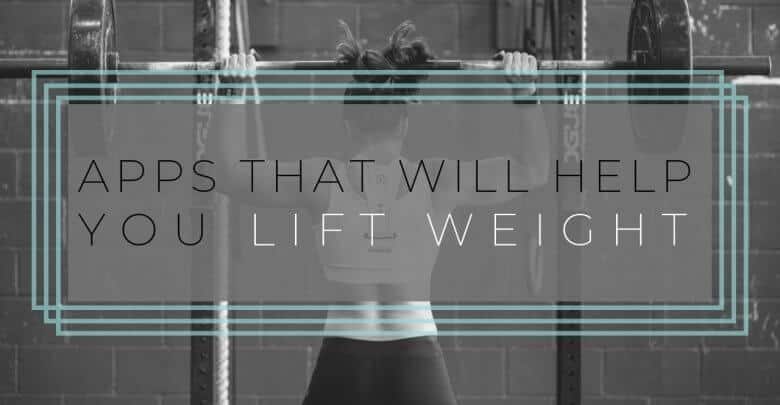 It seems like there are a million fitness apps out there all boasting new features, new workouts, and a myriad of different exercises. With apps tailored to running, yoga, pilates, and everything in between it can be hard to find an app that is tailored to strength training and weightlifting. That's why we've put together a list of some of the best weightlifting apps of 2019 so that you can hit the gym with some of the best tech in your pocket.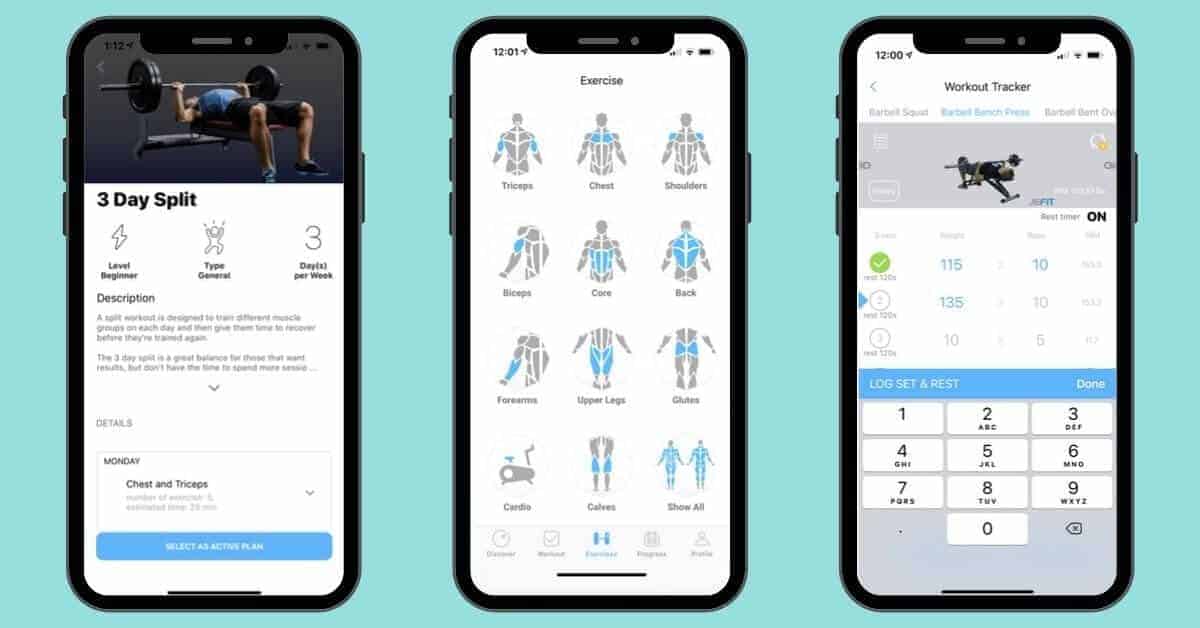 This no-nonsense weight lifting app provides both an efficient way to track your lifts and a ton of strength training programs to follow. Not only can you use JEFIT to record your goals, along with your weights, sets, and reps, but to track body measurements, rest time, and more. You can even use the app to calculate your one-rep max for big lifts, like squats. It offers programs for everyone from weightlifting newbies to weight room vets who want to try bodybuilding, powerlifting, or circuit training.
The PR tracker and weekly progress reports will keep you motivated, whether you're penciling in those workouts at your local gym or on-the-go. To unlock certain training programs, you'll need to pay for the JEFIT Elite subscription.
This all-in-one app contains powerful fitness routine planning and tracking tools that help you target your workouts and keep easy track of your progress. Plan a routine—you can build whole workouts around individual body parts if you like—before you hit the gym. Once you're inside, JEFIT takes over, telling you what's next (including animations) and even timing rest periods between exercise. It stores your info for later reference, plus packs more than 1,300 instructions and animations to help you find new exercises to achieve your goals.
Best of JEFIT
This app is one of the most popular ones out there for strength training workouts and for a good reason. The JEFIT app comes with a ton of features but some of the most helpful are the ones that allow you to effectively plan your next workout. With a big library full of different exercises organized by body part, along with suggestions from the app on how many sets and reps you should do you are sure to put together a killer workout in no time.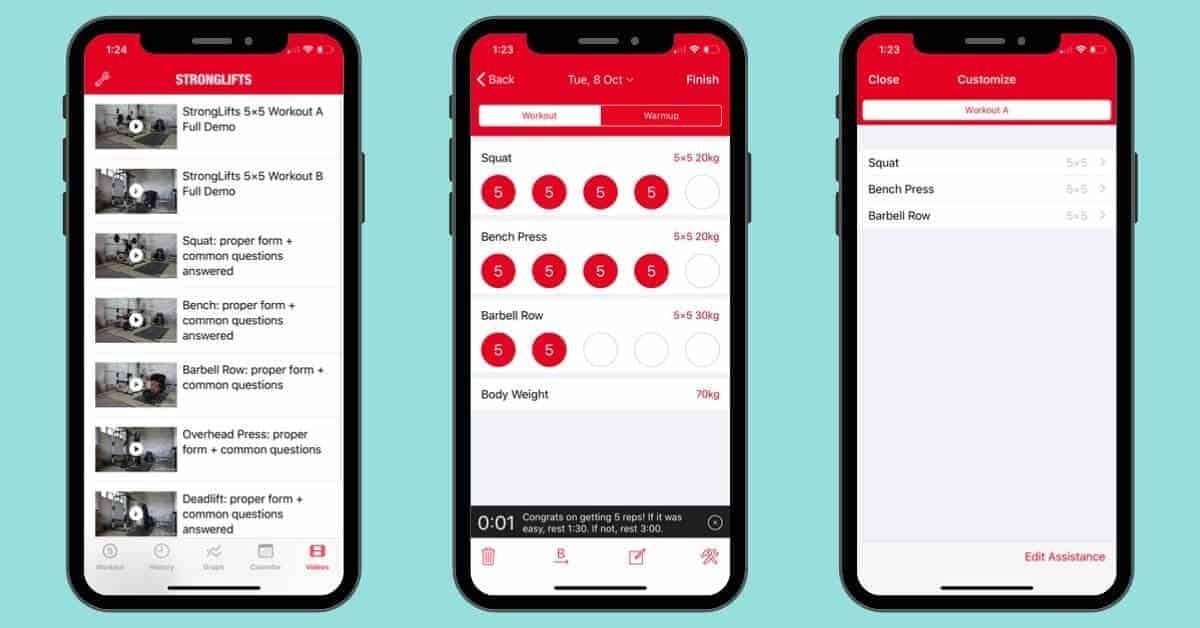 StrongLifts 5×5 is an app that is exclusively built for strength training. It uses the popular 5×5 workout routine and tracks your progress as you go. Some of the other features include a set timer, a calendar for tracking, Wear OS support, and some other neat stuff. You do workouts several days a week for about 45 minutes at a time.
The 5×5 workout is very simple: five sets of five reps of no more than a handful of compound movements. With the StrongLifts 5×5 workout, you perform just five compound exercises each week: the deadlift, squat, bench press, overhead press, and barbell row.
Like your own personal Bob Harper, StrongLifts 5×5 tells you what exercises to do, how much weight you should lift (making on-the-fly adjustments when you plateau or fail) and congratulates you when you put in a solid effort or achieve an important goal. You get cloud backups in case you switch devices, A/B workouts to shake things up, and there are a ton of workout videos to show you how everything works. It's better for exercise routines than it is for tracking, but it's very effective for strength training.
Best of StorngLifts 5×5
One of the main benefits behind utilizing the 5×5 workout set up is that it is a known method to increase strength and see results in training in a relatively efficient way. So, because the StrongLifts app hones in the benefits of 5×5 and also has the added benefit of the app automatically upping your reps or weight, you are sure to blast past those plateaus you may be hitting.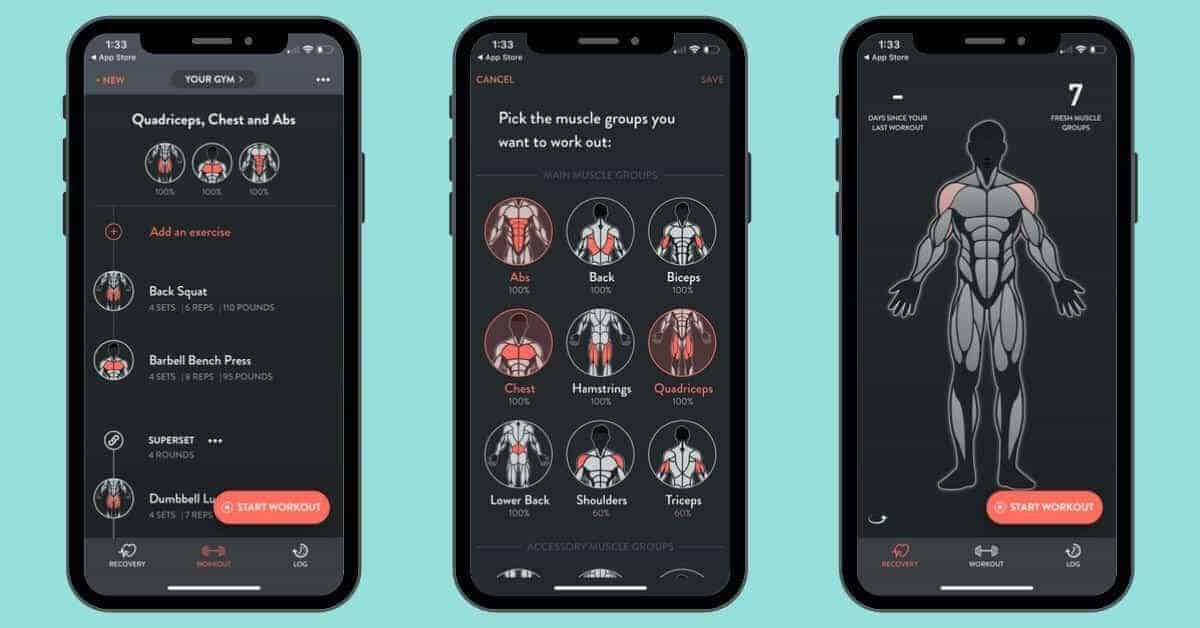 Artificial intelligence has gained quite a bit of attention in 2019, and that's not going to change anytime soon. Fitbod is a weightlifting app that embraces AI technology. No, the app can't exercise for you, but it does learn from your past workouts to provide a personalized regimen based on a myriad of factors such as your equipment, past struggles, goals, and much more. Driven by a super-smart algorithm, Fitbod uses your personal fitness information and goals to progressively adapt your workouts to help you get stronger and fitter.
This weightlifting app provides recommendations for which exercises to do and how much weight to use and then adapts based on your performance. It also incorporates new exercises at the right time to provide your body with the change-of-pace it needs and to keep you mentally motivated.
Best of Fitbod
It's beginner-friendly (with more than 400 demo videos), and also estimates your calorie-burn and awards you when you knock off new fitness achievements. The main feature of this app is it's AI capability and adaptability to you and your specific fitness goals or progress.
With that in mind, this app would best serve someone who is really looking to amp up their workouts in a methodical and challenging way. So if you are feeling like your current strength training regime is getting a little routine, then it might be a perfect time to shake things up with a little help from one fit algorithm.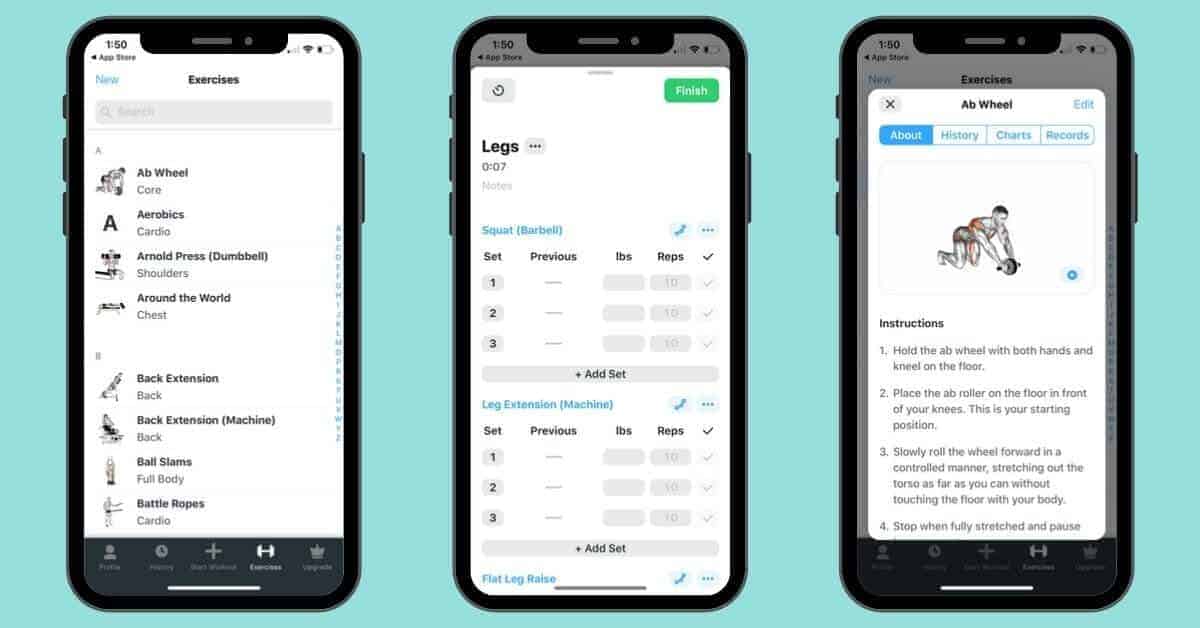 The name of this app is pretty self-explanatory. The weightlifting app, Strong, is an app that was designed specifically with the weight rack in mind. It's easy to use, even when you're exhausted mid-workout. With the free app, you can create three workouts, and check off your sets as you complete them.
The app fills in your previous weights and reps so you don't have to fiddle with numbers every time. It syncs with Apple Health and Google Fit, meaning that if you spend 45 minutes logging exercises on the app, you'll automatically get credit for a 45-minute strength workout. Strong also keeps track of your personal bests, and it calculates your theoretical one-rep max of each exercise based on the reps you do. For example, if you bench 90 pounds five times, it lets you know that you could probably do a single rep at 100 pounds.
The pro version is worthwhile if you're in the gym a lot. You also get a plate calculator, which tells you how many plates and what size to add to each end of the bar to reach your desired weight. So, for that 90-pound bench, you'll add two 10-pound plates and a 2.5-pound plate to each end of a 45-pound bar. The subscription also unlocks a calculator for warm-up sets, a body measurement tracker, and a bunch of analytics to monitor your progress.
Best of Strong
The Strong app is great for those who hit the gym with exact numbers of sets and reps in mind for their workouts. Because the apps stores your previous workouts that you have completed, you can look back at your progress and also recognize if you are zoning in on beating your Personal Bests or "PBs". Think of this app as the ultra-smart replacement for that tattered old gym note that you used to tote around.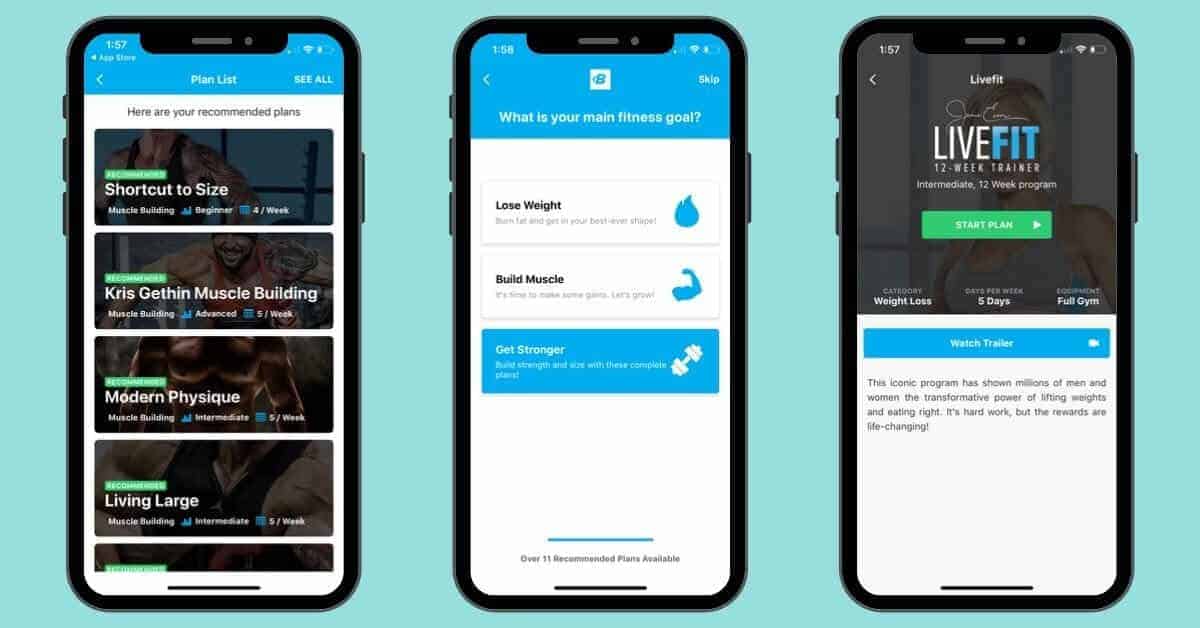 If your introduction to lifting weights involved perusing the bajillion training plans on Bodybuilding.com, you can now satisfy your inner gym bro. All Access contains more than 60 weight-based training programs, along with nutrition guidelines, supplement recommendations, and advice from the trainers themselves. Plus, the app's tracking tools make logging your reps, sets, and weight—and monitoring your progress—easier than ever.
The customizable expert training plans offered in the Bodybuilding.com All Access subscription service are an excellent way to get started at bodybuilding or to take yourself to the next level. If you're really busy, you might find that it's hard to get an appointment with a trainer.
Best of All Access
You might also be new to bodybuilding and aren't sure where to start. It's great to be able to ask the other people at the gym, but sometimes that's not possible. You might be shy or unfortunately might not have a friendly person to ask.
Personal training isn't exactly cheap either. Lots of people would love to see a trainer but just can't afford it. If any of this sounds like you, you'll love the customizable expert training plans. These are the next best thing to having a trainer with you or on speed dial. Real bodybuilding experts put together plans that you can customize and follow on your own to get started or to take yourself to the next level.