Running wearables have come a long way since your basic GPS tracker. Now with the latest line of wearables, you can track your running form like never before.  From cadence to bounce to pronation. All that data is at your fingertips. 
Essentially these types of running analysis trackers fall into three categories.
A foot "pod' that attaches itself to your running shoe
Pressure sensitive foot sensors that are placed to the bottom of your foot
A body "pod" that clips onto the waistband of your pants or is worn like a heart monitor strap
Below we break down the difference between the latest running analysis wearables. The overarching categories that seemed to be standard features across most analysis wearables included basic tracking features like distance, duration, and GPS. Elements that are standard on many running center wearables such as a Fitbit, Apple Watch, or popular running apps. Although these elements may seem like a given some analysis wearables do not offer them and would have to supplement with a separate wearable or app.
Fit Tech Feature: Skiin Underwear That Tracks Fitness
The features that are specific to running analysis wearables include running form elements that you would normally learn from a running coach or physiotherapist.
A super important and basic cornerstone to running is cadence. Any running analysis tool worth its salt should really include cadence. As, for one, if the tech is up to snuff then it should be an easily captured metric
Also, these categories include foot strike placement, a crucial element to get right in order to avoid common running injuries like shin splints and runner's knee.
The third is balance, which really means you are using one foot/leg over the other. We all have tendencies to favor or put one side of our body to more work than the other. This could because you subconsciously use your dominant side or you may be baby an injury on one side. Either way, a proper running form should aim to have a nice evenness to the pressure or weight you are placing on each foot.
Finally, we've got the big one which is stability. What we mean by that is your overall stability and power in your form. This where true running form analysis takes place.
This can be tracked in one of two ways. For "pod" wearables this is done by the wearable itself being tracked through space. Meaning that the more it moves a certain way in 3D space is telling of your running form. The second way to do to track is by the pressure sensitive foot sensors picking up inconsistencies in the pressure you are placing in your feet. By mapping out the pressure you place on your feet when you strike the ground is telling of the stability in your overall running form.
Okay, let's quit the chit-chat and get into the tech.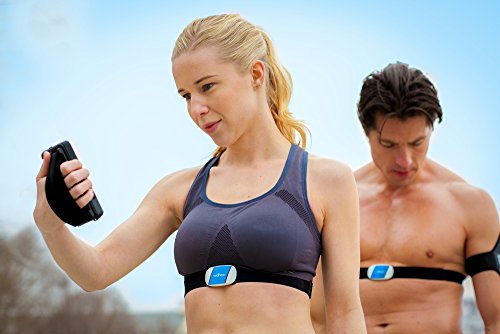 BEST FOR A BEGINNER RUNNER
It measures key running metrics, such as cadence, vertical oscillation, ground contact time, and captures your indoor treadmill workouts. Equipped with Bluetooth Smart and ANT+ dual-band technology. It is compatible with most popular running apps and is the perfect running tracker to help you meet your goals including Nike+ Running, Runkeeper, Strava, and MapMyFitness. The Wahoo Tickr Run cross some t's but doesn't dot all the i's. When it comes to a comprehensive analysis of your running form, this device only really calculates bounce (aka vertical oscillation) and cadence.However, if you are looking for a fairly inexpensive tracker that also ticks off heart rate and GPS mapping this may be for you.
WHAT WE LIKE
The price is a very nice bonus for the Wahoo Tickr Run coming in at just $60. Comparing to some units that rocket up to $300. Another great feature is that is compatible with some of our favorite running apps like Runkeeper, Strava, and Nike Running Club. With feedback on the running basics like cadence and general bounce. Which are great starting points if you are just learning what a proper running form feels like.
WHAT COULD BE BETTER
This tracker only really gives you the basics of running analysis. The pod can give you feed back on your vertical oscillation, meaning the amount of bounce that occurs when you run. Which is great, but it's the only true form analysis this guy is capable of. Meaning that it won't give you actionable feedback to help you recover from an injury or shave time off your PB.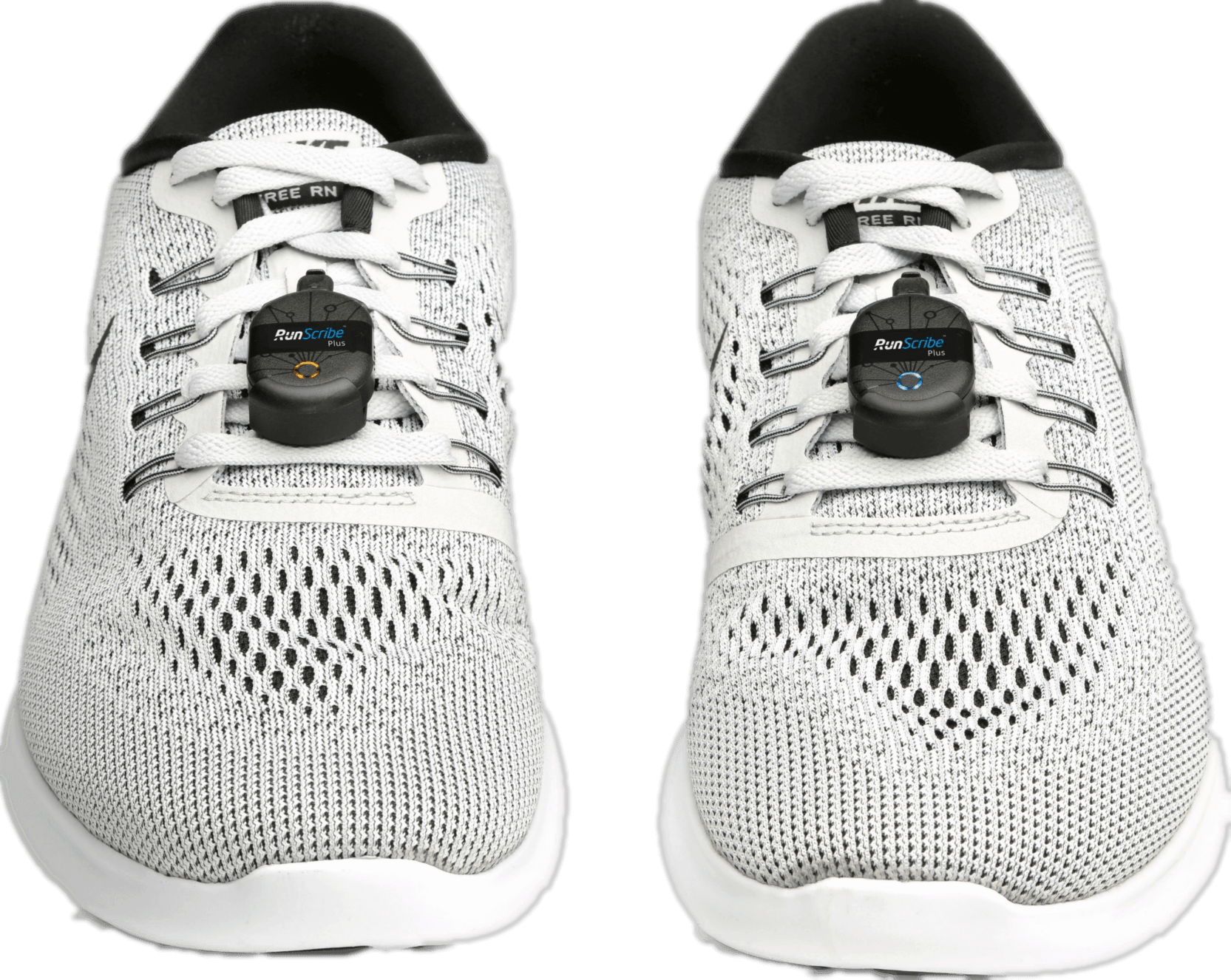 BEST FOR THE DATA JUNKIE
By collecting advanced metrics at every foot strike, RunScribe provides a holistic view of your run. Allowing you to track progress, assess risk and quantify the impact of training on form and symmetry. If you are seriously curious about improving your running form and performance through data then consider Runscribe. Probably providing the most comprehensive look at your running form and gait. Although, these foot pods do not offer the more basic tracking metrics such as distance or GPS tracking. That would have to be out sourced to another app, such as Runkeeper or Nike Running Club.
WHAT WE LIKE
These are like the 'Where's Waldo' of running wearables. Because they are so low key and don't have to be strapped, clipped, or worn on your actual person. Runscribe also scores some serious points because they truly deliver on the data. To give you an idea here are some data points that Runscribe extracts: cadence, flight ratio, contact times, foot strike analysis, pronation excursion, pronation velocity, cumulative shock, forced used in braking, and efficiency. Any more and we would run out of breath.
Seriously, the only type of analysis that would rival this one would be to step into an actual doctor's or trainer's office. The best part is that it not only spits out the data it also gives you suggestions on
WHAT COULD BE BETTER
Although Runscribe really delivers on the data it does have some drawbacks. For one the data that is given to you at the end of your run is smoothed over. So instead of sharp peaks and valleys you would get from raw data, Runscribe graphs are smoother and by consequence less accurate. Also, because the foot pod is not actually attached to your foot metrics like foot pronation is not as accurate if it was actually attached to your foot, not your shoe. The device does not have an explicit start/stop function. Meaning that you would have to attach them to your shoes the moment you start running. Any casual walking to a from the trail may skew the data.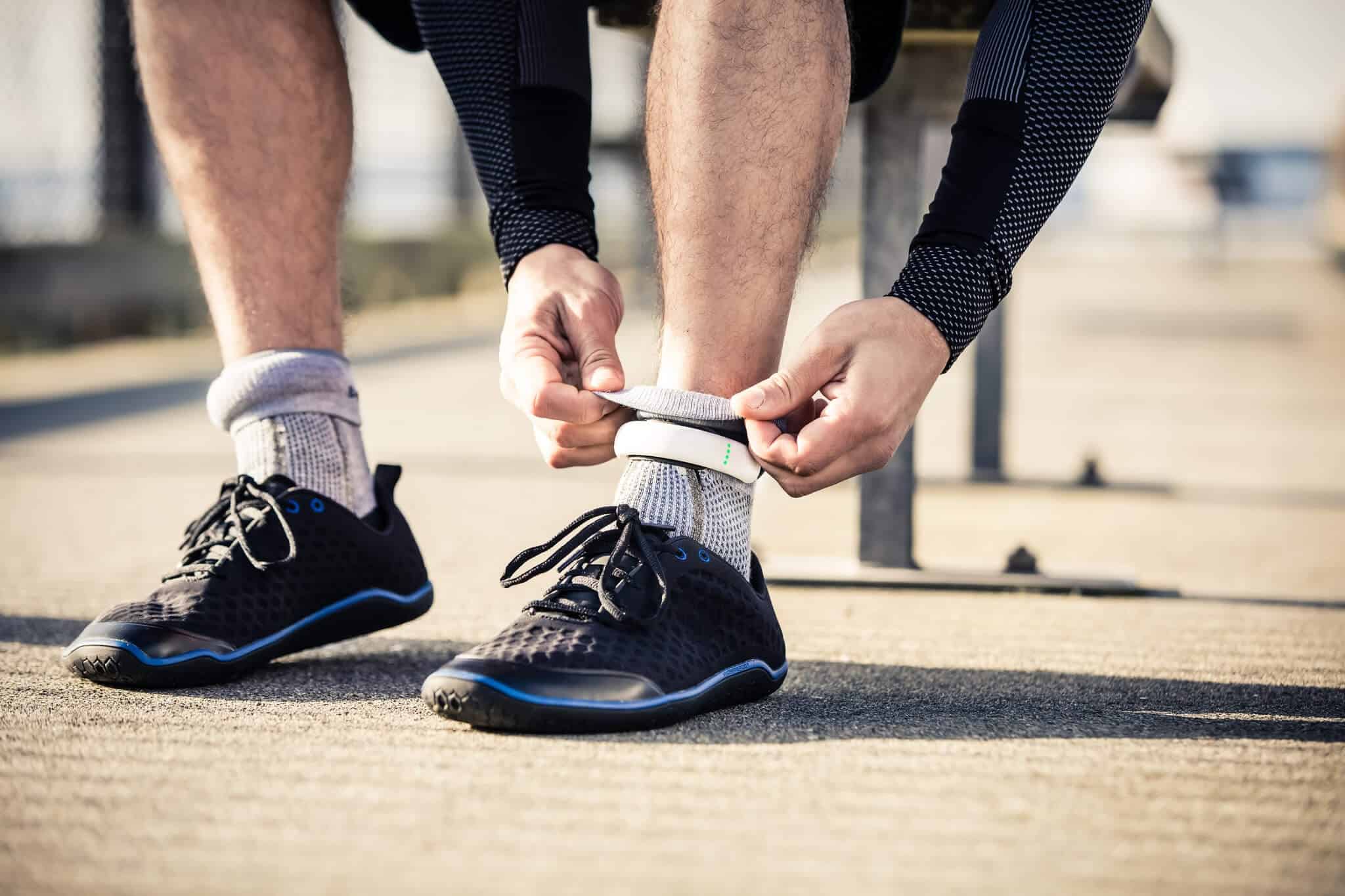 BEST FOR NAILING A BASIC RUNNING FORM
Sensoria Fitness Socks come with embedded pressure textile sensors and connect with a "anklet" that snaps to the socks. The socks deliver analytics in step counting, speed, calories, and altitude. While also tracking cadence, foot landing technique as you walk and run. This helps you identify injury-prone running styles (heel striking, ball striking, etc), then leverages a mobile app to coach in real-time via audio cues. The app also has the ability to play a metronome for your targeted cadence throughout the run. So that you are consciously training and getting used to running at a proper cadence. The Sensoria web dashboard can also help achieve goals, improve performance and reduce risk of gravitating back to bad tendencies.
What We Like
You can personalize your run a fair amount/ Before you start, you'll also choose your activity (running, walking or other), if your terrain is indoor or outdoor and select the intensity of the virtual coach (from silent to very chatty). Then, you decide if you want a metronome to tock-tock-tock when you're off-cadence. You can also add goals, like a distance, though the sliding scale only gives you targets of 1, 3.1 or 6.2 miles, or a marathon or half-marathon. If you're trying to run 7 miles, too bad.
What Could Be Better
A single anklet tracks your movement on one foot, right or left. To measure the other, you'll need to switch sides or splurge for a second gadget. One thing to note: In order for the system to work, you do have to run with the phone either in hand or otherwise strapped onto your body. Add Bluetooth/GPS tracking to find anklet if you can't find it (or if it pops off)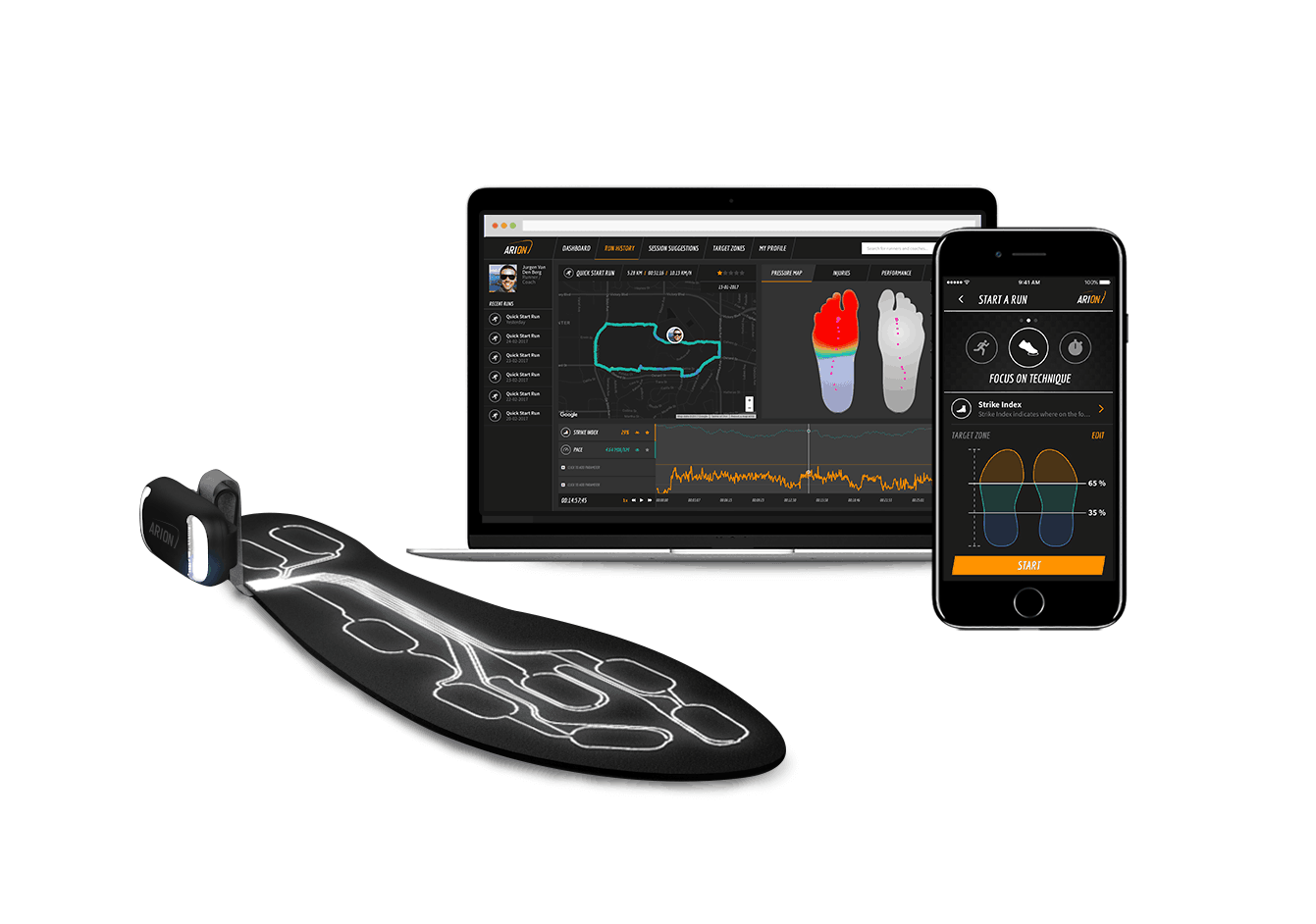 BEST FOR ALL AROUND COMPREHENSIVE RUNNING DATA
The pressure-sensitive insoles measure the direct interaction between your feet and the ground. The foot pods track the movement of your body. Combined with the ARION app it connects you to your running technique to ultimately run faster, longer and safer. ARION's coaching engine adapts your training with every run you make. Target zones are set for each of your running sessions. You will focus on one element of your running technique each run. Overall this product covers every base you would want for the runner who has been around the block once or twice.
What We Like
This contains a GPS sensor and multi-axis accelerometer and gyroscope, which means you don't have to rely on a connected smartphone. The training pod also connects to an external dock for charging, with a battery life of around 7 hours. You can use any device you like with it. LED lights on the side of the training pod help you to stay visible at night, and a selection of colors means you can match the lights to your running apparel. The training pod locks into its clip with a rotation, and once attached offers water-resistant so that you won't have to worry about running in the rain or through puddles.
What Could Be Better
The Arion insoles although the most technically advanced on this list, they are also the priciest. Coming in at a cool order of $310 per pair.
The Ever Efficient Runner
Stryd works by using a 3-dimensional accelerometer to estimate power production. By doing so Stryd can measure force production in 3 dimensions (up and down, side to side and forwards and backward). According to the Stryd team, its data has then been then validated against a force plate embedded treadmill in a lab. The gold standard of directly measuring force/power.  
What We Like
There are many efficiency metrics that Stryd captures, such as Ground Contact Time and Vertical Oscillation, however, a more readily actionable metric is your EI, or Efficiency Index. As the name implies, EI tells you how efficiently you ran, and more specifically, how much speed you achieved per watt of output. Higher numbers are better.
What Could Be Better
Without capturing more basic data like duration, heart-rate, or GPS Stryd would need to be supplemented with another device. Not too much fun, if you don't enjoy juggling a couple of devices.
#6 GARMIN DYNAMICS POD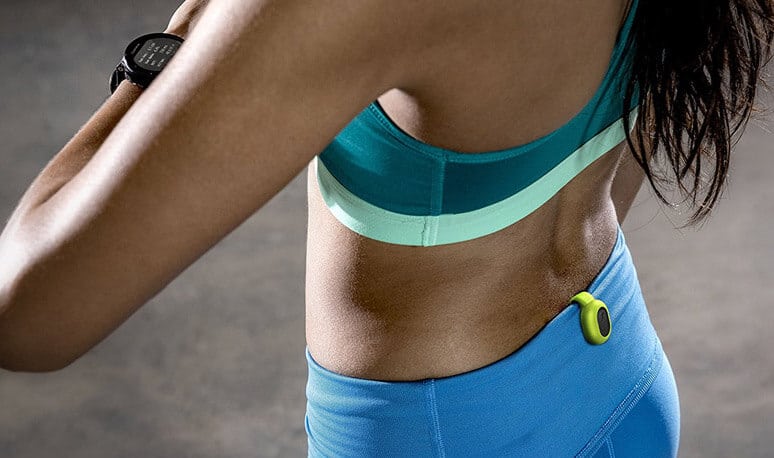 The No Fuss Runner
This little pod clips onto your waistband to measure track cadence, left/right balance, stride length and more. It gives you the option to run without a heart rate monitor chest strap while still being able to view and analyze the biomechanical measurements that can't be determined at the wrist. Super lightweight, this accessory sports an IPX7 water rating and a year-long battery life.
What We Like
The last thing any runner wants is any unnecessary baggage and thankfully that's not something you need to worry about with this dinky wearable. There are no buttons to worry about here, it's really all about letting the wearable do the work letting you focus on the running. You don't need to worry about charging it either, as it runs on a replaceable battery that should get you around a year's worth of tracking before it needs changing.
What Could Be Better
Because this device is attached to the body and not the foot, you do not get foot specific data feedback. Meaning that if you are looking to improve your form from a heel-runner to a midfoot-runner, this may not be the device for you.
Lumo Run is a small pod-like product that attaches to the back of your run shorts while you run. . It attaches easily and is hardly noticeable while running. The product syncs wirelessly via Bluetooth to your iPhone app. The Lumo Run provides real-time, biomechanical feedback to help an athlete adjust their running form to become more efficient
What We Like
Running with the Lumo Run measures body mechanics and delivers feedback on how to adjust for improved running form. Offered through real-time audio coaching feedback when you run with your phone. The Lumo takes the place of a coach's eye and measures more specifically what your body is doing.
What Could Be Better
The biggest drawback to the product is that in order to get GPS data which includes your map, pace, and distance you need to run with your phone. Lumo Run says they plan on partnering with a third party application, such as Garmin or Strava in the future to get the GPS data.